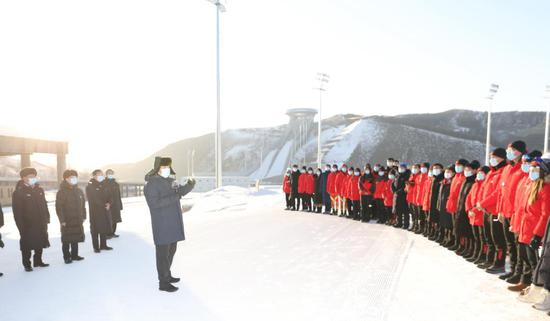 President Xi Jinping speaks to athletes, coaches and staff members at the Zhangjiakou competition zone of the Beijing 2022 Olympic and Paralympic Winter Games while visiting the National Biathlon Center in north China's Hebei Province, Jan. 19, 2021. (Xinhua/Wang Ye)
President Xi Jinping's recent inspection on Beijing 2022 preparations has sent a reassuring signal to the sporting world that China is determined to deliver an excellent Olympic and Paralympic Winter Games in one year's time.
Xi, also General Secretary of the Communist Party of China (CPC) Central Committee and Chairman of the Central Military Commission, this week inspected the Games' preparation work in the three competition zones of downtown Beijing, north Beijing's mountainous Yanqing District and the co-host city of Zhangjiakou.
Xi stressed that not only should preparation work be finished on schedule, but it should also be conducted "with greater perfection".
"Not only will we host a successful Winter Olympic extravaganza, but also a spectacular Games with unique characteristics," Xi said.
Even as the world is mired in the COVID-19 pandemic, and China, too, is still tackling sporadic outbreaks, preparations for Beijing 2022 are backed by strong government support.
CONFIDENCE SHOWN TOWARDS BEIJING 2022
International Olympic Committee (IOC) president Thomas Bach said the 2022 Olympic Winter Games was "placed in safe hands" when Beijing won the bid in 2015.
One year away from the opening of the 2022 Winter Games in the Chinese capital, all 12 competition venues have been completed, a high-speed railway linking Beijing and co-host Zhangjiakou is now operational, nearly one million volunteer applications have been received and the Games pictograms have been released.
Winter Olympic mascot Bing Dwen Dwen and Winter Paralympic mascot Shuey Rhon Rhon, both unveiled in 2019, were even featured on China's Chang'e-5 probe for a historic trip to the moon.
"I have great expectations that the Winter Games in Beijing will be a very memorable Winter Games," Anthony Edgar, senior consultant for Beijing 2022 and previously Head of Media Operations for the IOC for 18 years, told Xinhua.
"It is always important that the Olympic Games receive the government's support, and under President Xi's personal involvement and leadership, Beijing 2022 has support and commitment of the highest level," said Edgar.
That view was echoed by world Anti-Doping Agency (WADA) President Witold Banka.
"We all remember the successful and exciting summer Games of 2008 in Beijing and I have no doubt that the city will be able to match those high standards again next year," said Banka.
"In doing so, Beijing will complete the unique double of becoming the first city to host both the winter and summer Games. It is a truly remarkable achievement for Beijing. It is a tribute to the commitment that sport receives from the people and government of the city and of China as a whole," he added.