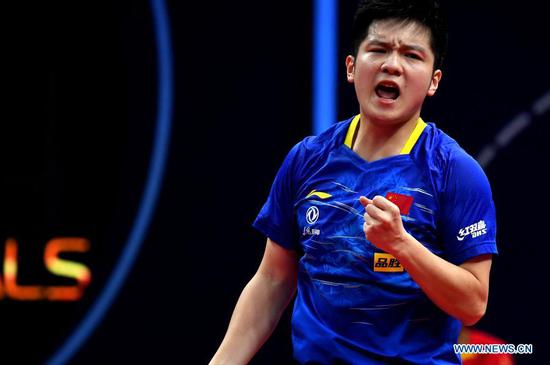 Fan Zhendong of China celebrates scoring during the men's singles semifinal match between Fan Zhendong of China and Jang Woojin of South Korea at 2020 ITTF finals in Zhengzhou, capital of central China's Henan Province, Nov. 21, 2020. (Xinhua/Li An)
World top-placed Fan Zhendong was one match away from defending his ITTF Finals title after conquering South Korean Jang Woo-jin in men's singles semifinals here on Saturday.
The last obstacle in Fan's way to title defense will be compatriot Ma Long, who came from one game behind to see off teammate Xu Xin.
Jang had a wonderful campaign in the year-end table tennis competition, outlasting Japanese teenager Tomokazu Harimoto and China's Lin Gaoyuan before reaching the final four.
However, like the World Cup semifinals one week ago, Fan proved too strong for the South Korean to overcome. Despite conceding the third game, Fan came out the winner by 11-8, 11-4, 13-15, 11-8, 11-5.
"The first game was crucial to my victory today. I felt the pressure from my opponent," Fan commented.
"Jang showed better form compared with the World Cup, and built his momentum after consecutively knocking out strong players. He had some changes when I led in the match, and I just tried my best to catch up with him," the top seed added.
In an eye-catching semifinal between two veterans, Ma lost the opening game 13-11, before bouncing back to pocket the following four games 11-9, 11-9, 11-8 and 11-7.
"It was a tough battle. After losing the first game, I tried to keep calm and refocus myself on the match. As you play such a high-quality opponent such as Xu, it is quite normal losing one or two games," Ma explained.
"Recently I have lost to Fan twice in the final. I hope to challenge the world No. 1 tomorrow," he added.