(ECNS) -- Bao Wenzheng, a senior at the High School Affiliated to Beijing Normal University, has published her third novel, entitled To My Roses.
Bao Wenzheng's third novel "To My Roses". (Photo provided by the author)
The novel follows wealthy Wendy from Los Angeles who's grown tired of her comfortable, but monotonous life. However, her life changes after she meets with Kristen and Burn.
This novel explores human nature and emotion from a female point view.
Bao published her first and second novels, We are in one Heart and Lone Sea, at the ages of 14 and 15, respectively. All three books focus on the mental development of teenagers dealing with friendship, kinship and love. Bao has been fond of reading and writing since childhood. Her works have been awarded first prize from the 12th "Wen Xin Diao Long Cup" National Campus Literature Competition and shortlisted for the "Beijing News •2nd New-Generation Creative Writing Camp for Middle School Students".
Bao says that writing after intense study sessions in high school brings her much joy to her. "If possible, I intend to be a professional writer," she said.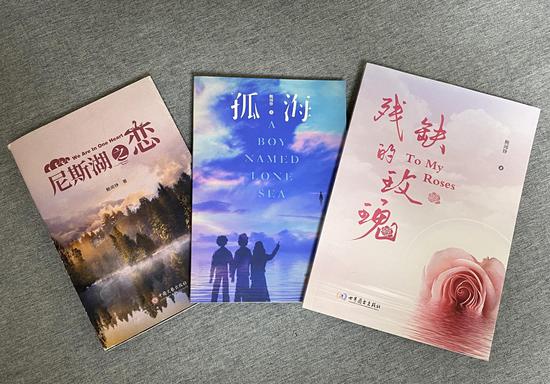 Bao Wenzheng's three novels. (Photo provided by the author)
Bao's parents are open-minded about her writing. Her mother says that "Bao showed an early talent for writing. She loved writing poems and short articles in primary school. We have never stopped her from writing to focus on her increasingly tough studies, because we saw she felt real happiness while writing. We will continue to do our best to support her, encourage her, and praise her. We hope she will love writing forever."