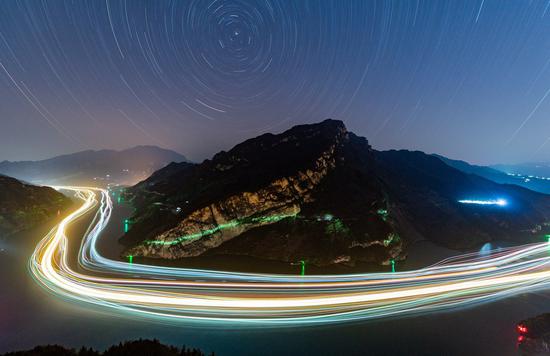 This long-time exposure photo shows the night scene of ships sailing in a section of the Xiling Gorge along the Yangtze River in Zigui County, central China's Hubei Province, Nov. 13, 2020. (Photo by Zheng Jiayu/Xinhua)
The Three Gorges Dam, the world's largest hydroelectric project on the Yangtze River, has set a new record for annual power output, authorities announced on Wednesday.
Power generation reached the 103.1-billion-kilowatt-hours mark at 8:20 a.m. on Sunday, surpassing the 103.098-billion-kWh record set by the Itaipu Dam in South America in 2016, according to an announcement made by the China Three Gorges Corporation.
The clean electricity, which otherwise would be generated through burning 31.71 million tonnes of standard coal, has helped reduce carbon dioxide emissions by 86.71 million tonnes, sulfur dioxide by 20,600 tonnes, and nitrogen oxides by 19,600 tonnes.
Featuring efficient water resource utilization, the Three Gorges project controls and prevents floodwaters along the Yangtze River basin and generates electricity.
The project, which became operational in 2003, consists of a 2,309-meter-long and 185-meter-high dam, five-tier ship locks on the north and south sides, and 34 turbo-generators with a combined generating capacity of 22.5 million kilowatts.