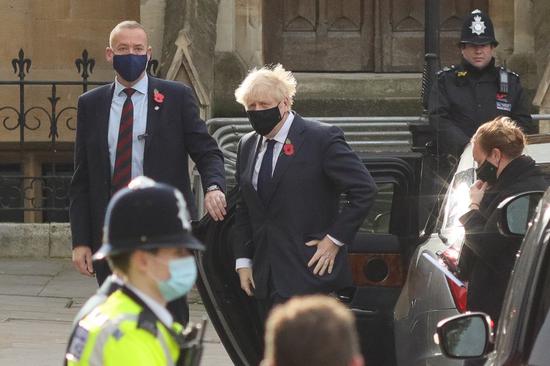 British Prime Minister Boris Johnson arrives at Westminster Abbey to attend a service to mark Armistice Day in London, Britain, Nov. 11, 2020. (Photo by Tim Ireland/Xinhua)
Special: Battle Against Novel Coronavirus
Britain reported another 33,470 coronavirus cases, the highest daily increase since the pandemic started, according to official data released Thursday.
The total number of cases in Britain hit 1,290,195, the figures showed. The latest number of deaths has yet to be announced.
On Wednesday, 22,950 people tested positive. A further 595 deaths were announced Wednesday, the highest number since May 12, bringing the country's total to 50,365.
According to the latest weekly surveillance report from Public Health England, the highest rate continues to be among 20 to 29 year-olds, which stood at 358.9 cases per 100,000 people in the week to Nov. 8, up from 347.1 in the previous week.
Earlier Thursday, a major study published in the journal EClinicalMedicine showed that black people are twice as likely to contract coronavirus as white people, and people from Asian backgrounds are one and a half times as likely.
The disproportionate impact of coronavirus on different social groups are believed to be attributed to various factors, such as greater levels of deprivation, living in larger, multi-generational households, and having more public-facing jobs where working from home is not an option, The Guardian reported.
The report came as the number of people who have died with coronavirus in Britain passed 50,000 on Wednesday, marking the country the fifth one in the world to hit the tragic milestone, following the United States, Brazil, India and Mexico.
Britain is the first European nation to record more than 50,000 coronavirus deaths.
To bring life back to normal, countries including Britain, China, Germany, Russia and the United States are racing against time to find a vaccine.