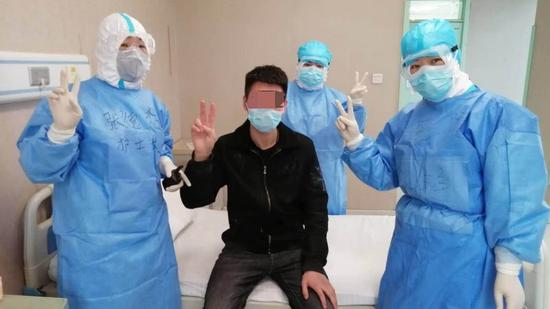 A 21-year-old patient (in black) poses with his doctors at Ankang Hospital in the city of Mudanjiang, Heilongjiang Province. The man, who wants to remain anonymous, is the first imported case to have recovered amid the current outbreak at the China-Russia border.(Photo/CGTN)
Special: Battle Against Novel Coronavirus
On Tuesday evening, one imported COVID-19 patient who returned to China through the border city of Suifenhe recovered from the coronavirus. The 21-year-old man, who wants to remain anonymous, is the first imported case to have recovered amid the current outbreak at the China-Russia border.
After two rounds of nucleic acid testings, the man finally walked out the Ankang Hospital in the nearby city of Mudanjiang, and he is now free to go.
Fearing that the pouring infections might collapse the city's medical system and spark widespread outbreak, China suspended Suifenhe land port on April 7 to give itself more time to prepare for inbound patients.
Meanwhile, a temporary hospital converted from an office building in Suifenhe has been handed over to the local government over the weekend. It will be used to treat asymptomatic patients when the city runs out of facilities to deal with future imported cases. This means, the newly converted hospital will not start operation until necessary. At present, the People's Hospital in Suifenhe is capable of treating asymptomatic patients.
Meanwhile, in the nearby city of Mudanjiang with a population of 2.5 million, several hospitals have also been called on duty to receive confirmed COVID-19 patients if the need arises.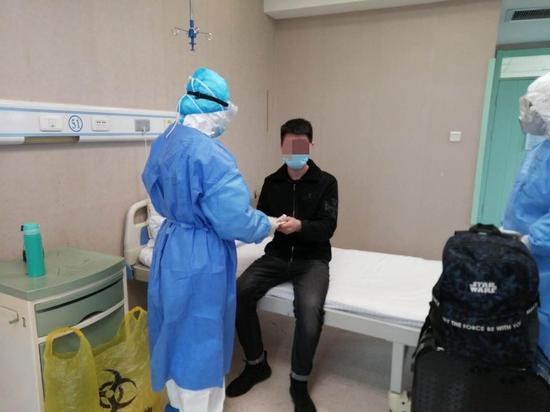 The 21-year-old patient with his doctors at Ankang Hospital in the city of Mudanjiang.
(Photo/CGTN)
Heilongjiang provincial government has prepared an elite team of 1,000 medical staff, some of whom have just returned from Wuhan with first-hand experience. They are all on standby for joining at the front line. Face masks, protective clothing, as well as more medical supplies arrived a few days ago.
A team of 15 experts from China's Center for Disease Control and Prevention arrived in Suifenhe on Sunday. Some of these experts have years of experience in intensive care and infectious disease.
The top priority now is to identify the infected patients early, to treat them early and to cure them early. These experts held consultations with local doctors in Mudanjiang and Suifenhe straight away after arrival. And thanks to their help, the city's nucleic acid testing capacity is expected to reach 1,000 units per day.