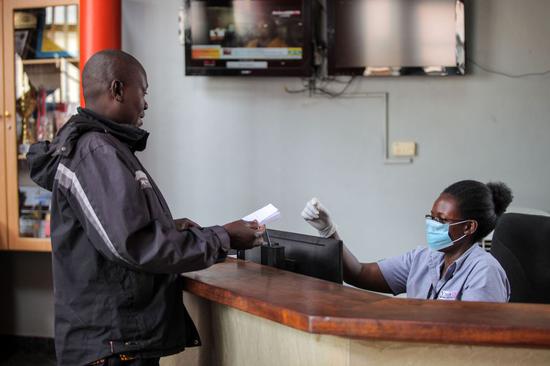 A receptionist wearing a face mask receives a client in Kampala, Uganda, March 18, 2020.(Xinhua/Hajarah Nalwadda)
Special: Battle Against Novel Coronavirus
A total of 1,198 COVID-19 cases have been reported in 41 African countries so far, the Africa Center for Disease Control and Prevention (Africa CDC) disclosed on Sunday.
The Africa CDC, in its latest situation update issued on Sunday, also revealed that the death toll in Africa due to COVID-19 is currently 37 across the continent. The 37 deaths occurred in seven countries.
The highly coronavirus-affected African countries include Egypt, with 294 cases, South Africa, with 240 cases, Algeria, with 102 cases and Morocco with 96 cases, as of Sunday, according to the Africa CDC.
The Africa CDC also disclosed that some 108 people who have been infected with the COVID-19 have recovered.
John Nkengasong, Africa CDC Director, told a press conference on Thursday that the Africa CDC is focusing on a three-pillar strategy to combat the spread of COVID-19 in the continent.
"Our first strategy is aimed at prevention, the second pillar of strategy is preventing death and the third pillar is preventing social harm," he said.
Nkengasong also said Africa CDC is facilitating mass testing across the continent as part of a comprehensive plan to fight the spread of the virus.