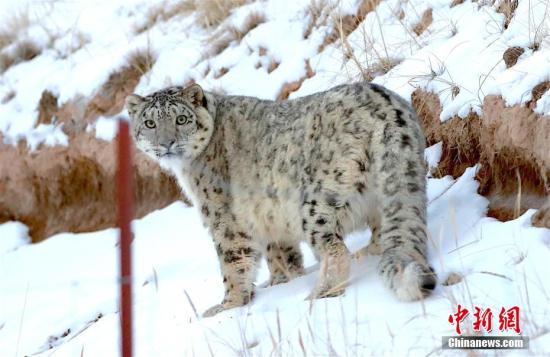 A snow leopard's image was captured by infrared cameras in a nature reserve in northwest China's Gansu Province. (Photo/China News Service)
Infrared cameras in a nature reserve in northwest China's Gansu Province captured over 60 images of snow leopards during the second half of 2018.
The Yanchiwan nature reserve is located in the western part of the Qilian Mountains. Staff at the reserve recently collected videos and photos caught by 50 infrared cameras. Some snow leopards were caught walking alone, urinating on rocks and running through the rain.
"Based on these images, we can conclude that the area has a certain number of snow leopards, but the exact population is yet to be calculated," said Ulgi, an official with the reserve.
The cameras also caught images of bears, foxes, white-lipped deer and blue sheep. More than 3,000 photos and video clips were collected in total. "The material helps the study of biodiversity in the area," Ulgi said.
In April 2018, a snow leopard protection program was jointly initiated by the World Wildlife Fund (WWF) and the management bureau of the Yanchiwan reserve. The 50 infrared cameras were set up under the scheme.
The reserve has installed a total of 234 infrared cameras to observe the activities of snow leopards in an area covering 3,075 square kilometers.
In northwest China's Xinjiang Uygur Autonomous Region, a snow leopard protection project has made achievements after monitoring the species in the eastern Tianshan mountains this winter.
The monitoring work was jointly launched by the local forestry administration bureau of the eastern Tianshan mountains and the WWF in September 2018.
A total of 60 infrared cameras have been scattered across the largest state-owned forest in the central and eastern Tianshan mountains, covering an area of around 550 square kilometers, according to sources in charge of the project on Monday.
Fresh footprints, digging traces and snow leopard feces were found by the staff. Twenty-one cameras have captured snow leopards 94 times, collecting 417 pictures and videos.
Snow leopard activity in low-altitude forest was also spotted by the infrared cameras, though scientists generally believe that snow leopards only live among bare rocks, meadow and woodland in high-altitude mountains.
"We will keep monitoring to learn more about snow leopard activities in the Tianshan mountains and assist the local administration to come up with more targeted protection strategies," said He Bing, snow leopard project manager for the WWF.
Besides snow leopards, the cameras also recorded other rare wild animals, including red foxes and ibex. The staff also saw argalis, important prey for snow leopards, several times in the wild, which will play a significant role in building a biodiversity database in this region.
"There remains a plenty of blanks to be filled in as to the status of snow leopard populations in this area," said Bakri Jeki, deputy director of the forestry administration bureau of the eastern Tianshan mountains. "We will continue to cooperate with scientific institutions and NGOs to protect snow leopards as part of efforts to improve the ecosystem in Tianshan mountains."
Snow leopards are a Class A protected animal in China and are classified as "vulnerable" by the International Union for Conservation of Nature. They live in the Himalayas in central and south Asia at an altitude of 2,500 to 4,500 meters.
He Bing said it was widely believed that around 60 percent of the species live in China, but the total population of the animal in China is still unclear, since only 1.7 percent of the animal's habitat has been surveyed in the country.
He said that the discoveries of snow leopards and other animals in Xinjiang was evidence of China's increased efforts in environmental control such as the protection of natural forests.
Zhang Changzhi, expert with snow leopard project of the WWF, said a number of high-tech facilities had been increasingly used in monitoring and protecting the species, such as infared cameras, drones and DNA research based on the animal's excrement.
"Still, more should be done in protecting the snow leopard, which is vulnerable to challenges such as climate change, habitat loss and human activities," he said.
In October 2018, a report about the status of China's snow leopard survey and conservation was jointly published by some nature conservation agencies, research institutions and universities across the country.
It suggested a nationwide population survey from 2019 to 2023. It also called for more efforts in monitoring protected areas and raising public awareness of the animal.