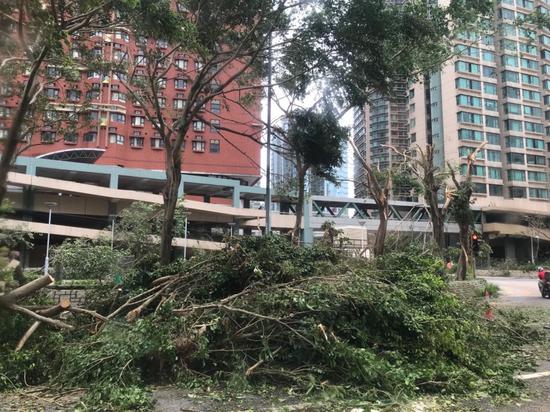 Windows of an office building were battered by the typhoon. /CGTN Photo
Sunday was a nerve-racking day for Hong Kong as it was battered by the strongest typhoon this year. After enduring heavy downpours and intense winds, the city is slowly trying to return to normal.
Though residents had prepared for the worst, the impact from Typhoon Mangkhut still came as a shock to many people. Several low-lying areas were severely flooded.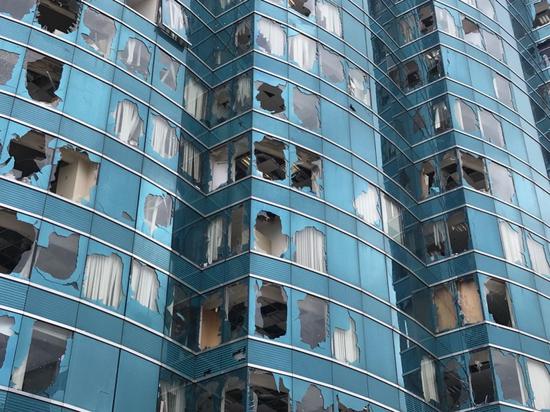 Windows of an office building were battered by the typhoon. /CGTN Photo
Most residents of these areas had however been evacuated as the typhoon approached. There have been no reports of deaths but over 300 people were injured.
Windows on many buildings were smashed. A crane at a construction site toppled over. Power lines in some regions were cut. About 1,500 trees were blown down, around twice as many as during Super Typhoon Hato in August last year. Fallen trees and debris blocked roads at 600 locations, and some have yet to be removed.
Nevertheless, Chief Executive Carrie Lam said on Monday that Hong Kong had largely been left unscathed by the typhoon, although she noted that many roads had been blocked by fallen trees and other objects. The government deployed 8,000 workers to clean up. But it will take some time for a complete recovery.
As the weather got better on Wednesday, a limited public transportation service was restored. The territory's government has aimed to clear up all the trees and debris on major roads by 5 a.m. on Tuesday. So the bus service is expected to be fully restored soon. Power and water supplies to many homes have been disrupted but repairs should be carried out as soon as possible. All schools closed on Monday and will stay shuttered on Tuesday.