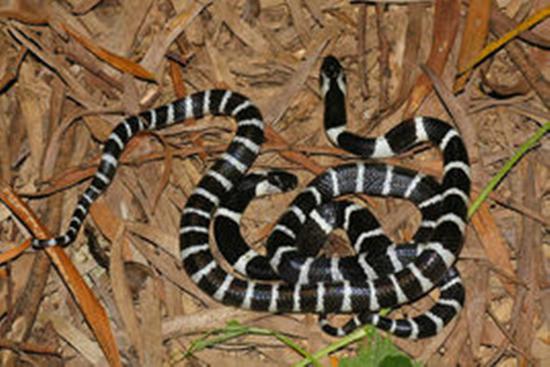 Bungarus multicinctus
Venomous serpent slithers through oversight cracks; woman dies from bite
The death of a woman who was fatally bitten by a venomous snake she purchased online has raised concerns about the online regulation of wildlife sales.
The 21-year-old woman from Weinan, Shaanxi Province - known in media reports by the pseudonym Xiao Fang - was declared dead on Tuesday after being bitten by a multi-banded krait (Bungarus multicinctus) that she bought on Zhuanzhuan, a mobile shopping app, Red Star News reported on Friday.
Previous reports late last week said she was brain dead, but did not confirm that she had met the definition of clinical death in China.
The snake was reportedly delivered to the woman by Best Express in Qingyuan, Guangdong province. But the delivery worker didn't check the contents of the package and had not been notified by the seller, according to Red Star News.
As of Sunday, China Daily did not see any venomous snakes for sale on the app, and attempts to contact Zhuanzhuan and Best Express were unsuccessful.
However, a staff member from Zhuanzhuan said earlier that dangerous animals such as venomous snakes and scorpions were not allowed to be sold via the app, and they are immediately removed when discovered, the report said.
Sun Quanhui, chief scientist at World Animal Protection, said the snake the woman bought is classified as a wild animal under State-level protection, and that online sales of the species are illegal.
"Selling wildlife online, especially species under protection, is easier to get away with than face-to-face trades, and so this poses a great challenge to investigators," Sun said.
It's challenging to regulate online trading of wildlife, and the platform should strengthen its monitoring of e-commerce information. Moreover, the public has a responsibility to report illegal sales to authorities, Sun said.
Ruan Chuansheng, a professor of criminal law at the Shanghai Administration Institute, said the seller - identified as a male surnamed Wang by Red Star - could be held liable for the woman's death under both civil and criminal law even though he had informed her that the snake was highly venomous.
It was reported that the woman bought the snake to make medicinal liquor, but the case is still under investigation by the Huazhou public security bureau in Weinan.
The snake that is believed to have bitten the woman was found dead by a sanitation worker on July 10 near her home. No additional snakebite cases were reported in the area.