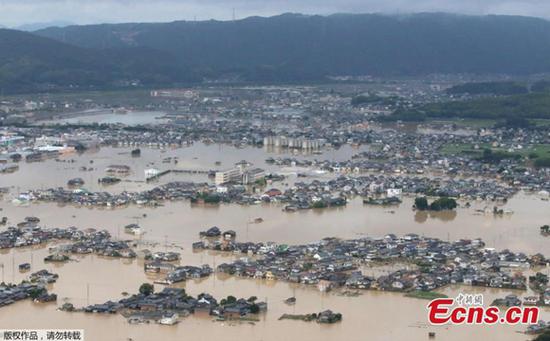 A flooded area is seen after heavy rain in Kurashiki, Okayama Prefecture, Japan, July 8, 2018. (Photo/Agencies)
The death toll from landslides and floods caused by widespread torrential rain across western Japan has risen to 112, with at least three others in a critical condition, public broadcaster NHK said Monday.
Authorities have also said that 79 people still remain unaccounted for and, as such, the death toll will likely increase.
Search and rescue operations have been continuing in disaster-hit areas, like Hiroshima Prefecture where 44 people have been pronounced dead.
Other hard-hit regions where fatalities have been reported include Okayama, Ehime, Kyoto, Yamaguchi, Fukuoka, Kagoshima, Hyogo, Shiga, Gifu, Kochi and Saga prefectures.
The rescue operations have seen local municipalities enlist the help of the Self-Defense Forces (SDF) as the ferocity of the storm and the torrential rain has caused the most amount of deaths seen here in recent decades.
Many people are still believed to be stranded inside their homes due to them not having access to roads, access roads being flooded or general flooding, local media reported Monday.
According to the Fire and Disaster Management Agency, evacuation orders or advisories had been issues to nearly 6 million people spanning 19 prefectures.
As of Monday morning, they said that 23,000 people were still staying at emergency evacuation shelters, with blazing heat now compounding the problem.
Temperature of up to 55.9 degrees Celsius was recorded in one city in Oita Prefecture, and Japan's Meteorological Agency (JMA) has warned those staying in or providing emergency relief in evacuation shelters to be wary of heatstroke.
Due to the scale of the national disaster, Japanese Prime Minister Shinzo Abe is to cancel a trip to four countries, so he can deal with the relevant ministries involved with the disaster, local media reported on Monday afternoon.
Abe had planned to visit Belgium, France, Saudi Arabia and Egypt from Wednesday.
Earlier, Abe had told a meeting of a disaster response unit set up to deal with the flooding that the number of rescue personnel including SDF personal sent to the scene had increased to 73,000.
Abe said they are "making utmost efforts to save lives."
As of Monday morning, the health ministry said the water supply to more than 13,600 households remained cutoff and 267,000 households were still without electricity.
The torrential rain caused major disruption to transportation systems with the transport ministry confirming that there had been around 238 landslides in 28 prefectures.
More than 200 floods had also been recorded along state-managed rivers, the ministry also said.
The transport ministry said that 13 railroad operators were suspending services on 37 routes in western Japan and other places as of Monday morning.
Damaged from landslides has been confirmed by West Nippon Expressway Company at 47 points on expressways across nine prefectures.
These include in Fukuoka and Hiroshima, where six sections of these expressways are entirely closed due to the damage, the road company said.
Major business have shuttered their factories and offices to ensure the safety of their workers, particularly in Kyoto, Hiroshima and Yamaguchi, according to their spokespeople.
These businesses include automakers Toyota Motor Corp., Mazda Motor Corp. and Daihatsu Motor Co.