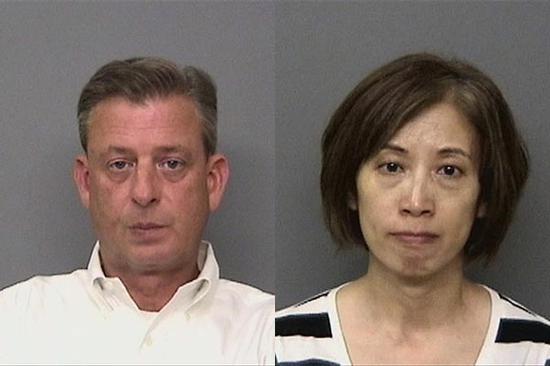 The Redding police on Friday arrest Jonathan McConkey (left), 48, and Kelsi Hoser, 50, both employees of IASCO Flight Training school in Redding, Calif., for conspiracy and kidnapping. The two allegedly kidnap a Chinese pilot in training from IASCO and attempt to deport him to China. (Photo provided to China Daily)
Police officers in California late Friday arrested a flight instructor and his assistant, accusing them of attempting to send a Chinese trainee back to his home country.
According to police, Jonathan McConkey, a flight instructor, and Kelsi Hoser, director of administration and reportedly McConkey's assistant, attempted to kidnap Tianshu Shi, 21, a pilot in training.
The pair, both employees of IASCO Flight Training (IFT) in Redding, California, got Shi as far as the local airport Friday morning before police intercepted them.
Shi's brother, Baihan Fu, lives in Shanghai. He contacted the police from Shanghai.
Sgt. Danny Smetak of the Redding Police Department said police responded to a call around 7:18 am from Shi's brother, Baihan Fu, that two flight instructors had arrived at Shi's place at Trudie Trail in Redding and told him he needed to return to China.
When Shi refused, McConkey, 48, and Hoser, 50, forced Shi into a vehicle and drove him to the Redding Municipal Airport, Smetak said.
"We ended up locating the victim at the Redding airport, where he was found to have some minor injuries," Smetak said.
Smetak said the police arrested McConkey and Hoser on the scene and booked them into Shasta County jail on charges of conspiracy and kidnapping.
According to its website, IFT is contracted by the Aviation Authority of China to train 180 student pilots, a program that Shi is also part of.
IFT is currently owned by the Chinese company Jiutian International Flight Academy and provides airline-sponsored and self-sponsored training programs.
Shi, 21, told local media Record Searchlight that he had been in the US for seven months on an M-1 visa and he enrolled in the program through Civil Aviation Flight University of China.
According to police records, Hoser and McConkey visited Shi late Thursday night. The two demanded that Shi leave and threatened to send him back to China, despite Shi's protests that he had not received any documents from China.
Shi recorded an exchange between him and the two instructors when they came back to his house the next morning to take him.
"Your ass is getting on the plane right now, or I'll break your (expletive) arm. You better believe that I'm (expletive) threatening you, and the United States Government needs you out of this country right now, you understand?"a male voice, assumed to be that of McConkey, could be heard saying in the recording, which was obtained by Record Searchlight.
A female voice, assumed to be Hoser's, alternated between Mandarin and English in the recording and could be heard telling Shi: "You are in our custody in the US, so you need to listen to our arrangements," she said in Mandarin, before switching to English: "Speak English please! Can you speak English? If you cannot speak English, you are not going to be able to stay here."
According to Record Searchlight, a second victim came forward on Saturday and said the program manager also threatened to send him home.
China Daily attempted to reach out to IFT for comment but messages left with the school were unanswered as of 4 pm Pacific time on Monday.
Smetak said this is the first time that the police had responded to an incident like this at the flight school.
McConkey and Hoser have both posted bail and were released from custody, said Smetak.