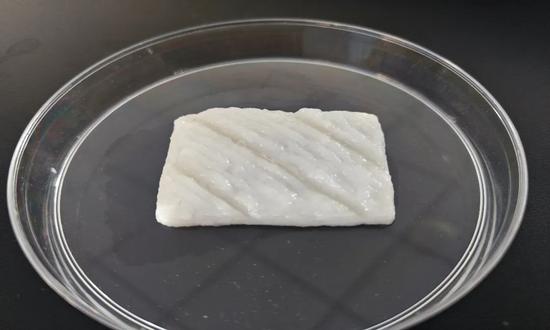 China's first centimeter-long cultured fish fillets with the help of 3D technology. (Photo: website of Zhejiang University)
A team of Chinese researchers have successfully grown the country's first centimeter-scale fish fillets in the lab using advanced technologies like stem cell isolation and tissue construction, pointing the way for sustainable meat supply on the market.
Using the large yellow croaker as the research object, researchers isolated its muscle and fat stem cells. Meanwhile, a three-dimensional culture of muscle fiber bundle is made based on the bionic construction of fish muscle scaffolds, leading to the manufacture of tissue-like cell culture fish meat was realized, according to the official website of Zhejiang University.
Cultivating fish with cells is essentially a process of cell proliferation and differentiation in vitro through animal stem cells. Among them, the number of cells increases continuously through proliferation, which differentiates to produce cell groups with different morphological structures and functions.
"With the growth and differentiation of muscle cells, more and more fish meat is produced, but it was just meat paste, a loose cell mass with no fixed shape or tissue structure as everybody generally knows," according to Chen Jun, a professor from Zhejiang University, who's also one of the leading researchers of the project.
To solve the problem, the researchers constructed a 3D scaffold with a gelatin-based gel to provide a structure for the cells to grow.
After 17 days of cultivation, the cultured fish fillet has the same texture, color and flavor as its natural equivalent.
"The high-quality protein and unsaturated fatty acids contained in marine fish have positive effects on human health. In the future, this technology may provide broader support for the supply of meat and animal protein on the human table, and it will also contribute to the protection of marine fish resources," said Liu Donghong, another leading researcher working on the project.
"The technology will provide fresh ideas for future development of cell culture of different fish and other economic animals to obtain high-quality protein, and play a greater potential in solving sustainable meat supply," Liu said.
The key technology of cell-cultured fish was recently recognized by the review team from a domestic association as having reached the international advanced level in the same field.
Cell-cultured meat is considered to be one of the technologies with the most potential to solve the future human table meat and protein supply and reduce the high dependence of artificially raised meat animals on water and land resources.
In addressing when the cultured fish fillet could be served at kitchen tables, Liu said there was extensive security assessment ahead. Liu said with the deepening of the technology, mass production of the meat could be realized in the future.
"We should see the hidden technological breakthroughs and innovations from this piece of fish, which will also open up new paths for the future development of the food industry," Liu added.