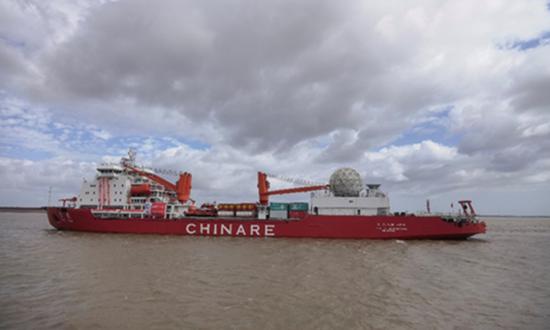 Members of the Purple Mountain Observatory set sail on a research ship on October 31, 2022. (Photo/Purple Mountain Observatory)
China's domestically developed terahertz testing system successfully withstands extreme Antarctic weather in first trial, Purple Mountain Observatory of the Chinese Academy of Sciences told the Global Times on Monday.
The observation and communication testing of the terahertz system were approved to be operated normally in extreme conditions after testing was conducted respectively in China's Kunlun Station and Taishan Station in the Antarctic, the Observatory said.
The Chinese built testing system is composed of key devices including a terahertz superconducting receiver, terahertz signal source, low temperature refrigerator and small high precision antenna and other independently developed key core equipment.
This experiment also achieved the first terahertz signal sending and receiving test in the kilometer-level 0.5THz band in the inland region of Antarctic, laying a foundation for further research and experimental verification of the next generation of communication technology to be used in the Antarctic.
The experiment was conducted during China's 39th Antarctic scientific expedition in the Antarctic. The expedition team set off from Shanghai in October 2022.
The terahertz band is of particular importance to observe astronomical objects such as cosmic microwave background, early distant objects, cold objects and dusty objects.