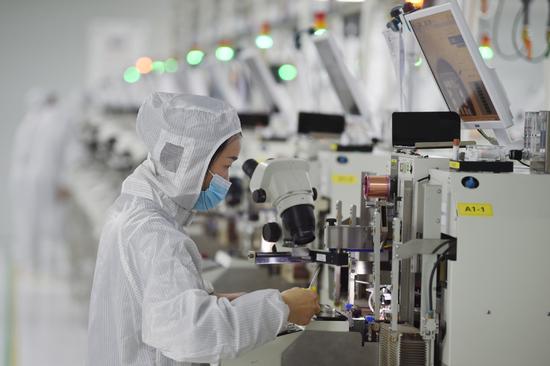 An employee works on a chip production line in Suqian, Jiangsu province. (FANG DONGXU/FOR CHINA DAILY)
China will "fully" promote the research and development of 6G as well as other cutting-edge technologies — including humanoid robots, the metaverse and quantum technology — this year so as to better support the construction of a modern industrial system, the top industry regulator said on Wednesday.
"Accelerated steps will be made to make action plans to develop these future industries. We also encourage local governments to carry out trials in these fields," said Jin Zhuanglong, minister of the Ministry of Industry and Information Technology, at a news conference of the State Council Information Office.
While leading countries are mapping out 6G, Jin said China has already established IMT-2030 (6G) Promotion Group — a flagship platform that promotes 6G and international cooperation — and is "steadily" promoting the R&D of this cutting-edge technology.
To speed up the building of a modern industrial system, Jin urged more efforts to strengthen weak links during the development of core technologies and construct independent and manageable industrial chains.
"More measures will also be implemented to cultivate strategic emerging industries, such as artificial intelligence, biological manufacturing, intelligent connected vehicles, the internet of things and low-carbon development," he said.
Jin added that the country will strengthen its leading status in industries where it excels, like new energy vehicles, and take steps to ensure the NEV industry flourishes.
Last year, China sold some 6.89 million NEVs, up more than 93 percent year-on-year. NEV production also soared nearly 97 percent to about 7.06 million units, said the China Association of Automobile Manufacturers.
Xin Guobin, vice-minister of industry and information technology, said on Wednesday that the ministry is confident that "the NEV momentum will continue" this year, based on an array of surveys and symposiums that the ministry conducted recently.
Jin added that the ministry will also provide greater support to promote high-quality development of small and medium-sized enterprises this year, as smaller firms still face tough development challenges.
To boost development of SMEs, China will strive to ensure that the number of SMEs that specialize in niche sectors, command a high market share and have strong innovative capacity and core technologies tops 80,000, and the number of special clusters for SMEs reaches 100, by the end of this year.
Wei Qijia, head of industry economy research at the State Information Center, said: "With gradual recovery of market confidence, the industrial economy in 2023 is expected to remain stable. Overall growth will see a steady recovery."
However, Wei also pointed out that more efforts should be made to boost domestic and overseas demand, especially for major manufacturing and foreign trade-dependent provinces.
"Big projects in early stage planning are expected to be implemented as soon as possible to stabilize bulk consumption such as NEVs and smart home appliances. Some new industrial consumption should also be encouraged to boost market confidence," Wei added.