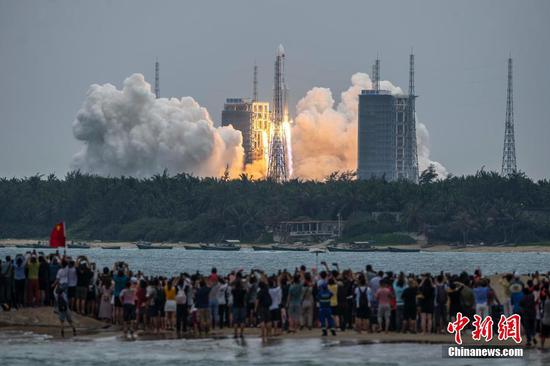 China plans to complete the construction of its space station by the end of 2022. (Photo/China News Service)
China will expand international cooperation through its space station, including scientific projects and joint flights with foreign astronauts, Ji Qiming, assistant to the director of China Manned Space Engineering Office, said at Wednesday's press conference on the launch of Shenzhou-12 manned spacecraft.
Outer space is the commonwealth of people all over the world, and the exploration of the universe is the shared cause of mankind, said Ji. "Consistent with the principles of peaceful use, equality and mutual benefit, and common development, China's manned space mission is willing to carry out international cooperation and exchanges with countries and regions worldwide that are committed to the peaceful use of outer space."
Since the implementation of the project, Ji said, extensive cooperation has been carried out with space agencies from other countries including Russia, Germany, France, Belgium and Italy, as well as international space organizations such as the United Nations Office for Outer Space Affairs and the European Space Agency, in spacecraft technology, space science experiments and astronaut selection and training.
The country will continue to enhance the depth and breadth of international cooperation and exchanges, in the fields of space station function expansion, space science and application, joint flights of Chinese and foreign astronauts, and the application of technological achievements, said Ji, so as to build the Chinese space station into "a space laboratory for the benefit of all mankind."
Currently, nine space experiment projects from 17 countries have been selected for cooperation in the Chinese space station, and China is also conducting bilateral cooperation with such countries as France, Italy and Pakistan on space experiments in fundamental physics, space medicine and space astronomy.
China and Russia have always maintained a sound cooperative relationship in the field of manned space flight with a number of fruitful cooperation conducted.
"At the present stage, the two sides have maintained good exchanges on the space station in the low-Earth orbit and manned deep space exploration, and are communicating for more cooperation," said Ji.
China also welcomes joint flights with foreign astronauts. "I believe that after completing the space station, we will see more joint flights of Chinese and foreign astronauts," Ji added.