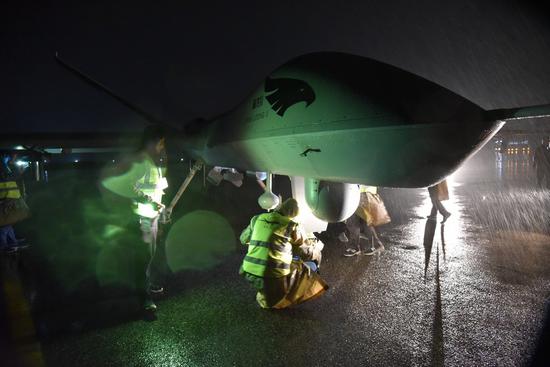 Tech-professionals conduct the pre-flight examinations on Wing Long-2. (Photo provided to Xinhua)
The China-developed Wing Loong-2 unmanned aerial vehicle (UAV) has completed the country's first large UAV-supported emergency communication exercise, the Aviation Industry Corporation of China (AVIC), its developer, announced Saturday.
The Wing Loong-2 successfully completed the communication support exercise mission, which was directed by the Ministry of Emergency Management (MEM), flying continuously for around 20 hours across three provinces, according to the AVIC.
This exercise verified the high reliability and adaptability of the Wing Loong-2 in complex environments, especially its communication support capability as a large unmanned aerial communications platform in extreme conditions, the AVIC said.
In the early morning of Sept. 29, the UAV took off from Anshun, in southwest China's Guizhou Province, and headed to Muli County, in Sichuan Province, in the southwest of the country.
It successfully accomplished 20 hours of round-the-clock flight and communication support operations amid moderate rain and other adverse weather conditions.
During the exercise, the Wing Loong-2 supported the communication provider China Mobile by tackling harsh communications challenges at simulated disaster sites featuring damaged roads, blackouts and network outages.
Indigenously developed by the AVIC, Wing Loong-2 is a multi-purpose UAV platform with superb multi-sensor fusion capability, as well as stable performance and mature technologies.