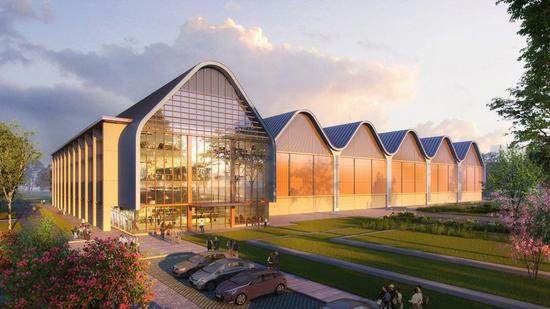 A concept image provided by Huawei shows the first phase of a state-of-the-art center to be built in Cambridge, Britain. (Xinhua)
STATUS QUO IN FRANCE, GERMANY
Major countries in Europe are taking a more practical approach in regulating their 5G infrastructures.
Germany's three major telecommunications operators Deutsche Telekom, Vodafone and Telefonica have been actively promoting 5G in recent years. They implement the "supplier diversification" strategy and use Huawei equipment in their networks among other vendors.
Peter Altmaier, German minister of economy, told the Frankfurter Allgemeine Zeitung on July 11 that Germany would not exclude Huawei from the country's 5G network rollout.
"There can only be an exclusion if national security is demonstrably at risk. However, we will strengthen our security measures, regardless of which country the products come from," said Altmaier.
"There is no change in Germany's position," a spokesperson of the country's Interior Ministry told local broadcaster ARD on July 16.
Earlier in July, Guillaume Poupard, head of France's national cybersecurity agency ANSSI, told newspaper Les Echos that there will not be a total ban on using Huawei equipment in the country's 5G rollout.
French telecommunications operators, such as SFR and Bouygues, have used Huawei's equipment in their networks. A previous article published by Les Echos pointed out that banning Huawei's equipment will cost the operators dearly.
HUAWEI: NOT JUST AN EQUIPMENT VENDOR
According to Huawei, it has been operating in the British market for some two decades. The company employs 1,600 people in Britain and supplies telecommunications network equipment to all the major mobile and broadband service providers in the country.
Some experts have pointed out that the company's investment has boosted development in more technological areas than just 5G in the country.
Rick Chandler, chairman of the Communications Management Association (CMA), used to work at telecommunications operator BT, and had experience working with Huawei.
He told Xinhua that Huawei has made significant investments in research and development (R&D) in Britain and worked with businesses and universities, which has yielded good results. Meanwhile, the company has established various labs and research programs in Britain and other European countries.
Last year, Xinhua reporters gained an exclusive insight into Huawei London Research Center, which focuses on the research of Artificial Intelligence (AI) and related technologies.
Haitham Ammar is the team leader of reinforcement learning at the center. He told Xinhua that Huawei maintains an open attitude toward collaboration. For example, researchers at the center have different types of collaborations with other companies or universities in Britain and some European countries.
"And we believe this is also very, very crucial for success. Because you know, we get the best minds in the world to help us crack the hardest problems," said Ammar.
In addition to the AI center, Huawei also announced in June that it will build a state-of-the-art center in Cambridge, Britain, which will focus on the research, development and manufacturing of optical devices and modules.
The company said it will invest 1 billion pounds (1.25 billion dollars) in the first phase of the project, which includes the construction of 50,000 square meters of facilities and will directly create around 400 local jobs.
To an expert like Rick Chandler, this kind of research dynamic is what Britain needs in developing next-generation telecommunications, IoT (Internet of Things) and more.
"I will be really upset if we lost that collaboration and investment that has gone on for so many years just because of the incident (the recent policy U-turn by the British government concerning Huawei)," he said.
Besides Britain, Huawei has similar research facilities and programs in European countries such as France.
The company said it has opened R&D centers in Paris, the southeastern city of Grenoble, Sophia Antipolis technology park, as well as Boulogne-Billancourt, a commune in the western suburb of Paris, and shared the intellectual property of the results of R&D programs carried out in collaboration with its academic partners.