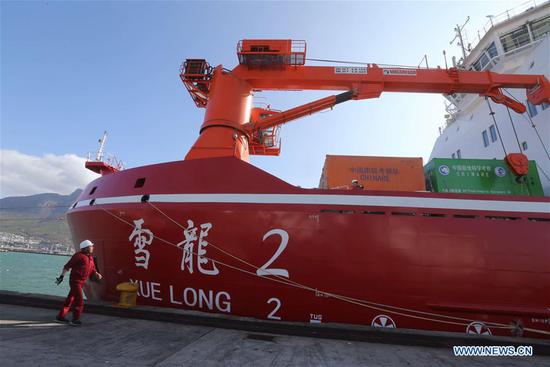 China's polar icebreaker Xuelong 2, or Snow Dragon 2, is seen at the port of Cape Town of South Africa on Jan 20, 2020. (Photo/Xinhua)
China's 36th Antarctic expedition concluded on Thursday as the two research icebreakers involved in the mission returned to their home port in Shanghai.
The Xuelong, or Snow Dragon, and Xuelong 2 set sail on October 9 and travelled a total of around 130,000 kilometers in the 198-day expedition.
Nearly 400 scientists, researchers and support crew took part in the mission, conducting 62 scientific and engineering tasks, said a statement from the Ministry of Natural Resources' polar expedition office.
It noted that all of the personnel are in good condition.
The mission was the first long-range operation for China's second -- and the first domestically built -- research icebreaker, Xuelong 2.