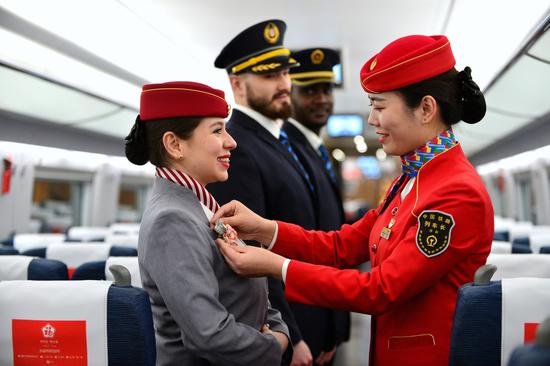 A train attendant helps foreign student trainees dress up in a car of a high-speed train about to depart from Xi'an, Shaanxi province, and bound for Beijing. (Photo by Tang Zhenjiang/for China Daily)
Special: NPC, CPPCC Sessions 2019
Two sessions shine light on how Four Great Modern Inventions have enriched life not just in China but across the world
The ongoing annual "two sessions" of China's top legislature and top political advisory body have brought into sharp focus the rich dividends reaped from the country's thrust on innovation in recent years.
In fact, innovation has become the mainstay of statements of government officials, deputies (or lawmakers) and political advisers.
All of them underline that constant industrial upgrade and technological breakthroughs alone can ensure China will attain its national goal of high-quality growth, thereby making life easier for citizens.
In this discourse, the newly-found idea of the Four Great Modern Inventions has attracted much attention. High-speed railways, mobile phone-based electronic payments, e-commerce or online shopping, and bicycle-sharing apps have shown how innovation, in the form of tech-enabled convenience and efficiency, makes life easier in contemporary China.
And now, these innovations are becoming China's best-known exports too, promising to enhance the quality of billions of lives worldwide, thus heralding a wave of world-class Chinese businesses.
For instance, China's bullet train company has a market presence from Indonesia to Hungary. Alipay's digital payment tool is ubiquitous in India. Online shoppers in Russia receive parcels from China in days rather than weeks. And brightly-colored Chinese-made shared bicycles that require no docking stations, were a common sight in the United Kingdom, Singapore and many other countries over the past few years.
To fully understand and appreciate the power and potential of China-led technological and business innovations, it is important to take stock of them, one at a time.
High-speed trains
China Railway Rolling Stock Corp or CRRC, which makes high-speed trains and operates them, has a footprint that covers over 100 economies, including Indonesia, Russia and Brazil.
CRRC's latest offerings are the Fuxing bullet trains. With its partners from the infrastructure sector, CRRC has already pushed forward the construction of the Jakarta-Bandung high-speed railway in Indonesia and the Hungary-Serbia railway linking Budapest and Belgrade.
It is now preparing for preliminary work relating to the Moscow-Kazan high-speed railway.
Fuxing, also known as "Rejuvenation", represents China's self-developed new-generation bullet trains. They are capable of running at speeds of 350 km per hour on the Beijing-Shanghai high-speed railway line. When the feat was achieved in 2017, Fuxing became the world's fastest operational train service.
By the end of 2018, China's high-speed railway network had reached 29,000 km, accounting for nearly two-thirds of the world's total, as per industry data.
With over 170,000 employees, the Beijing-headquartered CRRC plans to deploy more resources into operations, including localized manufacturing, procurement, employment, services and management, to drive growth in global markets.
Its high-speed train business is going to be the key to high growth in the future, given that CRRC is locked in fierce competition with other established rivals from Japan and Germany. But its big opportunity is projects from economies participating in the Belt and Road Initiative.
Lou Qiliang, vice-president of CRRC, said emphasis on innovative high-tech and global expansion will help the group to grow. Over the past five years, the company has already built a number of manufacturing bases in Australia, South Africa, Malaysia, India, Turkey and other countries.
The group's overseas assets jumped from $432 million in 2013 to $5.02 billion in 2017. It currently employs 5,700 people overseas across its various projects, compared with a mere 509 in 2013.
At the end of 2017, CRRC had 83 subsidiaries overseas, 58 of which were established after the Belt and Road Initiative was launched in 2013. It also has 13 research and development centers in 26 countries and regions around the world.