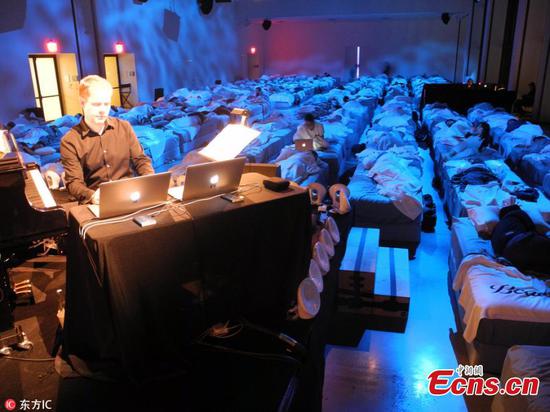 British musician Max Richter has bought his 8-hour masterpiece Sleep to New York City. The performance is scientifically designed to help the audience doze. For the concert's New York debut, 160 Beautyrest mattresses and beds were wheeled into the downtown's Spring Studios. (Photo/IC)
Israeli researchers have found a new and unexpected role for sleep, which can explain how sleep disturbances affect brain function, aging, diseases and brain disorders.
The researchers showed for the first time that individual nerve cells need sleep to maintain cell nucleus, especially to correct DNA damage caused during wake-up hours, said a report published by Bar-Ilan University in central Israel on Thursday.
DNA damage can be caused by many processes, including radiation, oxidative stress, and even neuronal activity. DNA repair systems within each cell correct such damage.
The researchers found that during waking time, when the chromosome dynamics in the cell is low, damage to DNA accumulates consistently and can also be a health risk.
According to the researchers, one of the functions of sleep is to increase chromosome dynamics and normalize the levels of DNA damage in each neuron.
The researchers compared the process to roads condition, saying that "the roads accumulate wear and tear, especially during daytime rush hours, and it is most convenient and efficient to fix them at night, when traffic is low."