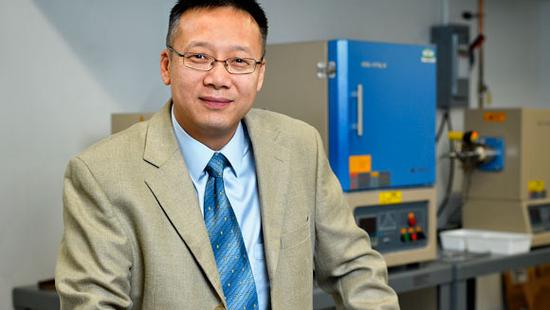 Jincheng Du, professor, material science and engineering, University of North Texas. /UNT Photo
A team of researchers working tirelessly to develop a new glass to store nuclear waste have found significant leads.
The gel layer formation on the glass surface, after coming in contact with water may potentially provide clues for the long-term storage of radioactive waste, a recent study claimed.
To retain radioactive waste in the event of water intrusion into the nuclear repository, solid waste forms such as ceramic, cement and glass have been an important area in nuclear research for years.
Around the world, borosilicate glass - consisting of silica and boron oxide - is widely used for storing nuclear waste generated from reactors and other sources.
"By combining a wide range of analytical techniques and advanced computer simulations, we have made great progress in understanding the important characteristics of the gel layer formed on the glass," Jincheng Du, a material science professor at University of North Texas (UNT) maintained in a statement.
"The gel layer prevents water transport and makes the glass chemically durable in the long term," he added. The study titled, Dynamics of self re-organization explains passivation of silicate glasses published in Nature Communications, used computer models to decipher anti-corrosive properties of the glass gel layer.
An estimated 250,000 tonnes of the nuclear material is currently in interim storage globally, submerged in huge tanks of water in facilities. These wastes are melted with glass-forming additives into a glass that entirely contains the waste.
This molten glass is then poured into a stainless steel container and stored underground at selected sites with geological stability. Because the waste emits different levels of radiation and environmental conditions are different from site to site, storage materials will break down at different rates, UNT release explained.
As a result, it is critical to obtain a fundamental understanding of the long-term corrosion mechanism of these glass materials. "The problem is corrosion of the material used to hold waste. Over time, environmental conditions lead to corrosion and the release of radioactive elements into the environment. We want to prevent that," Du maintained.
"Borosilicate glasses have high durability and are the chosen form to immobilize high-level nuclear waste. The key is to maintain durability in the very long term: thousands to hundreds of thousands of years."
According to Union of Concerned Scientists, the challenge of making nuclear power safer doesn't end after the power has been generated. In the recent years, the number of nuclear power stations is on the rise to quench global demand for electricity.
Scientists warn, "Nuclear fuel remains dangerously radioactive for thousands of years after it is no longer useful in a commercial reactor.
The resulting waste disposal problem has become a major challenge for policymakers."
UNT collaborated with French Alternative and Atomic Energy Commission, and the Pacific Northwest National Laboratory for the study.
Researchers also highlighted that the role of surface layers is also crucial for, "geochemistry to calculate the budget of some elements in the rivers and in the oceans and for the geological sequestration of carbon dioxide."