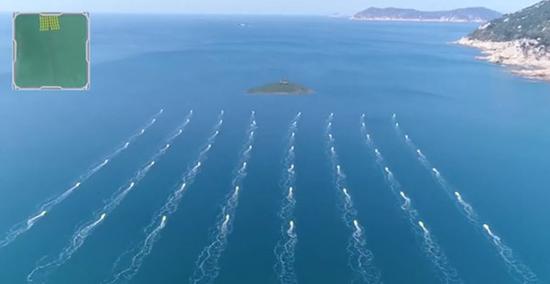 A still image of the video.
Technical demonstration shows value of vehicles, company says
China has earned a reputation in the research and development of unmanned vehicles, ranging from aerial combat drones to robotic pack mules capable of combat as well as carrying cargo.
Now, Chinese engineers have started eyeing unmanned surface vessels, typically small boats that can be remotely controlled or operate autonomously.
Oceanalph, a maker of unmanned surface vessels in Zhuhai, Guangdong Province, recently staged a technological demonstration involving 56 miniature unmanned boats off the Wanshan Archipelago in the South China Sea.
The test, including formation maneuvers and a task assignment, was aimed at verifying the unmanned boats' ability to work together. It also displayed the huge potential of unmanned vessels in future naval warfare, Oceanalph said in a statement.
The company published a video about the test on Chinese websites, showing the boats sailing quickly in groups and moving agilely. During the test, they formed the shape of an aircraft carrier as well as two Chinese characters "junmin", referring to the integrated development of civilian and defense sectors.
A leading firm in the unmanned vessel industry in China, Oceanalph said the technologies to coordinate multiple unmanned vessels are crucial and the test indicated the deployment of boat drone swarms, called a "shark-pack tactic" by the company, will be a trump card and overwhelm enemies in sea battles.
Though the company did not reveal the location of its recent test, it is believed it took place in the Wanshan Marine Test Field, construction of which began in mid-February.
With investment from several parties, including the Zhuhai city government and Oceanalph, the test field - the first of its kind in Asia - will cover 771.6 square kilometers upon completion, becoming the world's largest test site for unmanned ships, according to the China Classification Society, one of the project's funders.
Zhang Yunfei, founder and chairman of Oceanalph, said his company has all the core technologies for unmanned vessels and has performed the world's largest sea demonstration of unmanned boats.
He said unmanned vessels have a wide range of civilian and military applications, noting they will play an important role in safeguarding the nation's maritime interests.
Dozens of State-owned defense contractors, universities, institutes and private enterprises have been involved in the unmanned vessel industry.
In December, Harbin Engineering University in Heilongjiang province and HiSIBI, a Shenzhen-based private firm specializing in manned boats, announced that they have developed the world's fastest unmanned vessel, which can travel at about 93 kilometers per hour at sea.
The Tianxing 1 has a fullload displacement of 7.5 metric tons and uses oil and electricity for propulsion. It has entered mass production and has been delivered to users, according to the developers.
Globally, the United States, the United Kingdom and Israel have all invested heavily in the development and deployment of unmanned vessels, planning to take advantage of the new platform in future naval operations.