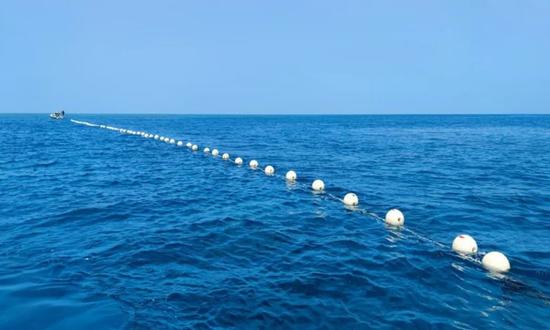 The China Coast Guard deploys a blocking net around the lagoon of China's Huangyan Island on September 22, 2023 in response to an unauthorized incursion by a Philippine vessel. (Photo/Courtesy of the China Coast Guard)
The Philippines' claim about having removed blocking nets set by the China Coast Guard (CCG) at Huangyan Dao (Huangyan Island) in the South China Sea is purely fabricated, said a CCG spokesperson.
CCG spokesperson Gan Yu made the remarks in a statement released late on Wednesday in response to a statement by the Philippine Coast Guard on Monday claiming it had removed the "floating barrier" deployed by the China Coast Guard on the southeast side of Huangyan Island that obstructed Philippine fishermen from "entering the area for fishing activities."
Without authorization from the Chinese government, a ship affiliated with the Philippines' Bureau of Fisheries and Aquatic Resources illegally entered waters off China's Huangyan Island and stirred up trouble in a provocative manner on Friday, Gan said.
The CCG took necessary measures in accordance with the law to effectively restrict the Philippine vessel, including calling and warning, route restrictions and temporarily setting blocking nets on the lagoon the Philippine vessel had entered, Gan said.
The nets were subsequently removed by the China Coast Guard on Saturday and the management measures returned to normal, with all onsite operations done professionally, in a standard and reasonable way, the spokesperson said.
The Chinese statement came with three pictures showing the Philippine vessel being blocked by CCG vessels, the blocking nets set by the CCG and the recovery of the nets later on.
China has undisputable sovereignty over Huangyan Island and its surrounding waters and has sovereign rights and jurisdiction over relevant waters, Gan said.
The CCG will continue to hold law enforcement activities in waters under Chinese jurisdiction in accordance with the law and will resolutely safeguard national sovereignty and maritime rights, he said.