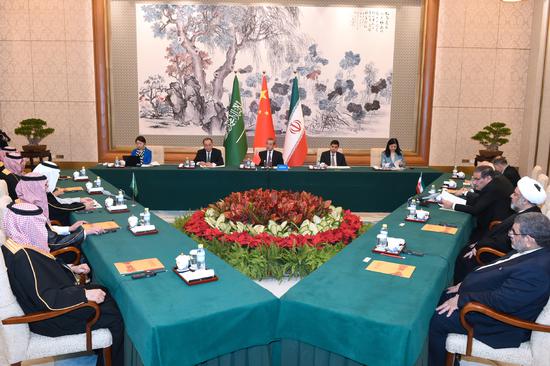 Wang Yi, a member of the Political Bureau of the Communist Party of China (CPC) Central Committee and director of the Office of the Foreign Affairs Commission of the CPC Central Committee, presides over the closing meeting of the talks between a Saudi delegation and an Iranian delegation in Beijing, capital of China, March 10, 2023. (Photo/Xinhua)
A low profile in mediation, great pragmatism and having no self-interests are some of the key factors behind Beijing's successful facilitation of the landmark reconciliation between Saudi Arabia and Iran last week, observers said.
After severing ties in 2016 and a standoff lasting seven years, Saudi Arabia and Iran sent high-level delegations to Beijing for five days of talks last week, which started on March 6 and were mediated by China, the Foreign Ministry said.
The talks were "in response to the initiative of President Xi Jinping of China's support for developing good neighborly relations between Saudi Arabia and Iran", the ministry said.
China, Saudi Arabia and Iran reached an agreement and issued a joint statement on Friday evening stating that Saudi Arabia and Iran had agreed to resume diplomatic relations and reopen their embassies and missions within two months.
Wang Yi, a member of the Political Bureau of the Communist Party of China Central Committee and director of the Office of the Foreign Affairs Commission of the CPC Central Committee, held separate dialogues with the two delegations and chaired the talks' opening and closing ceremonies.
No matter how complicated the issues are and how acute the challenges are, "a mutually acceptable solution can surely be found" as long as dialogue on an equal footing is conducted in a spirit of mutual respect, Wang told reporters after the talks.
"China has no intention to and will not seek to fill so-called vacuums or put up exclusive blocs. China always believes that the future of the Middle East should always be in the hands of the countries in the region," a Foreign Ministry spokesperson said in a written response to the media on Saturday.
In a statement on Friday, United Nations Secretary-General Antonio Guterres expressed his appreciation to China "for hosting these recent talks and for promoting dialogue between the two countries", saying that "good neighborly relations between Iran and Saudi Arabia are essential for the stability of the Gulf region".
Also on Friday, Pakistani Foreign Minister Bilawal Bhutto Zardari said, "What fantastic news today in a world where we are unfortunately no longer used to receiving good news."
The agreement also shows the leadership role that China is taking on the international stage, "a leadership role that is focused on uniting rather than dividing" and "forming win-win cooperation and encouraging dispute resolution, rather than encouraging perpetual disputes", he added.
On Tuesday, Foreign Minister Qin Gang answered a question about the Middle East at a news conference on the sidelines of the two sessions in Beijing without mentioning the talks. He said that China "will continue to uphold justice" and support Middle Eastern countries in promoting political solutions to hot-spot issues.
Li Shaoxian, director of Ningxia University's China-Arab Research Institute, said behind China's successful final push in the reconciliation are "trust from both countries, Beijing's patience, Chinese diplomatic wisdom and a great sense of duty".
"China honored its role as a responsible major country by showing the courage to undertake such a demanding task. This is a successful example of putting into practice the China-proposed Global Security Initiative and jointly building a community with a shared future for mankind," he said.
Wu Sike, China's former special envoy on Middle East affairs, said the resumption of diplomatic ties between Saudi Arabia and Iran, two major players in the Middle East, will help facilitate the resolution of hotspot issues in the region, including those in Yemen and Syria as well as the Palestinian-Israeli conflict.
He said that while China's philosophy advocates common and sustained security, there is another kind of outlook that seeks one country's own security at the expense of others.
"The world sees clearly which security outlook is better" in having positive impacts on global security issues, Wu told the Beijing Daily newspaper.
Factors behind the Saudi Arabia-Iran agreement also include the increased sense of strategic autonomy of Middle East countries, the continued de-escalation of tension between some countries and a decrease in interference and disruption from external major countries, experts said.
The sanctions that the United States has imposed on Iran for over 40 years have not really solved any problems and have not brought peace to the Middle East, they added.
John Kirby, a coordinator for strategic communications at the U.S. National Security Council, said at a briefing on Friday that Washington welcomes the agreement "if it can be sustained". He added that the U.S. "has also worked on de-escalation through its own 'effective combination of deterrence and diplomacy'".
Niu Xinchun, director of the China Institutes of Contemporary International Relations' Institute of Middle East Studies, said that despite the U.S.' great influence on Middle East affairs, it is common for the U.S. to pull the strings behind turmoil, directly intervene in conflicts, attach political conditions to areas such as negotiations, and seek to gain benefits from the countries involved.
"This makes the U.S. unable to stand in an objective, neutral position to mediate conflicts and relations, and even has a negative impact on resolving regional conflicts," Niu said.