Chinese President Xi Jinping holds a welcoming ceremony for visiting Turkmen President Serdar Berdimuhamedov prior to their talks at the Great Hall of the People in Beijing, capital of China, Jan. 6, 2023. (Xinhua/Shen Hong)
Chinese President Xi Jinping held talks with visiting Turkmen President Serdar Berdimuhamedov in Beijing on Friday, and the two heads of state announced the elevation of China-Turkmenistan relations to a comprehensive strategic partnership.
Noting this is President Berdimuhamedov's first visit to China after taking office, and Friday also marks the 31st anniversary of the establishment of diplomatic ties between China and Turkmenistan, Xi said it is of great significance for the two countries to make comprehensive plans for the future development of bilateral relations and jointly announce the elevation of bilateral ties.
The visions, goals and interests that China and Turkmenistan share mean that the two sides need to work together on the road to development and rejuvenation to leverage complementary advantages, tap cooperation potential and achieve common development, Xi said.
Xi noted that China is ready to work with the Turkmen side to deepen comprehensive cooperation and promote the building of a community with a shared future to advance bilateral relations to a higher level.
He emphasized that building a China-Turkmenistan community with a shared future is an endeavor that enables the two sides to further deepen mutually beneficial cooperation, better accommodate each other's concerns and reinforce their everlasting friendship on the basis of mutual respect, candor, mutual trust and mutual benefit.
"It is important for the two countries to synergize their development strategies at a faster pace, make full use of such mechanisms as the China-Turkmenistan Cooperation Committee, and continue to expand the breadth and depth of cooperation, in order to create underpinnings for bilateral relations with tangible cooperation outcomes," Xi said.
In the face of new circumstances and new challenges in the international and regional landscapes, the two sides should also deepen cooperation on law enforcement, security and bio-security, and jointly crack down on the three forces of terrorism, separatism and extremism, to build strong security shields for the development of both countries, he added.
Xi expressed the hope that the two sides will expand energy cooperation on a priority basis. He said that natural gas cooperation is the cornerstone of China-Turkmenistan relations, and greater cooperation in this area serves the strategic and long-term interests of both countries.
"The two sides need to advance cooperation on major projects at a faster pace, and unlock cooperation potential in such areas as green energy, natural gas utilization, energy technologies and equipment to promote cooperation across the industrial chain," he noted.
He also called on the two sides to steadily advance cooperation in economy and trade, earnestly implement the cooperation plan between the two governments on expanding economic relations, and explore new pathways and approaches to increase bilateral economic cooperation and trade.
"China will support more capable Chinese companies in investing and doing businesses in Turkmenistan, and work expeditiously with Turkmenistan to promote connectivity and facilitate personnel inter-flow between the two countries," Xi said.
Since the beginning of the pandemic, China and Turkmenistan have actively carried out vaccine cooperation, demonstrating the spirit of solidarity in times of difficulties.
"It is imperative for the two countries to further strengthen exchanges and mutual learning in health and medical cooperation as well as traditional medicine, and speed up efforts to establish a traditional medical center in Turkmenistan," said Xi.
"The two countries should continue to forge closer people-to-people ties, accelerate the establishment of cultural centers in each other's country, and complete the building of Luban Workshops as early as possible," Xi said, calling for expanding cooperation in such fields as press and media, successfully holding Year of Culture events in each other's country in 2023 and 2024, and supporting greater cooperation at the sub-national level.
Xi said that the China + Central Asia (C+C5) cooperation mechanism is a new mechanism for cooperation between China and Central Asian countries, which is open and transparent, mutually beneficial, equitable, and pragmatic.
China is ready to strengthen communication and coordination with Turkmenistan to ensure the success of the first C+C5 Summit, Xi said.
For his part, Berdimuhamedov said since the start of diplomatic ties, especially over the past decade after the establishment of strategic partnership in 2013, the two countries have engaged in fruitful exchanges and cooperation in multiple fields and at all levels.
Turkmenistan will work with China to enhance the synergy between the initiative to revive the Great Silk Road and the Belt and Road Initiative, further expand cooperation in economy and trade, strengthen cooperation in natural gas and other energy sectors, and advance the construction of cross-border railways and other connectivity projects, in an effort to deliver greater benefits to the people of both countries, he said.
Turkmenistan also looks forward to enhancing cooperation with China in culture, education and other people-to-people sectors as well as in areas such as medical service and health, Berdimuhamedov added.
Under President Xi's leadership, China has made tremendous achievements in economic and social development and played an important and constructive role in promoting the building of a more just and equitable international order, he noted.
Turkmenistan firmly believes that China will make greater achievements in the future and make greater contribution to world peace, stability, and prosperity, he said.
Following the talks, the two heads of state signed and issued a joint statement between the People's Republic of China and Turkmenistan and witnessed the signing of cooperation documents in areas that include the Belt and Road Initiative, green development, digital economy, health, culture, sports, news media, and natural gas.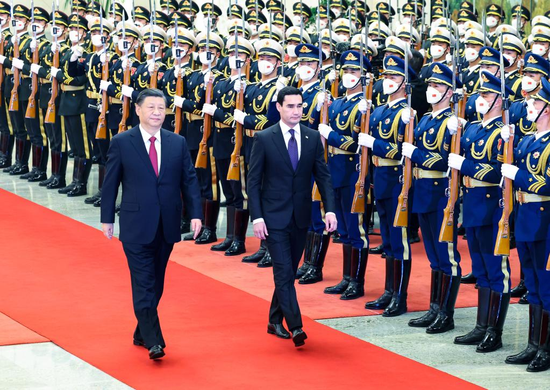 Chinese President Xi Jinping holds a welcoming ceremony for visiting Turkmen President Serdar Berdimuhamedov prior to their talks at the Great Hall of the People in Beijing, capital of China, Jan. 6, 2023. (Xinhua/Yao Dawei)