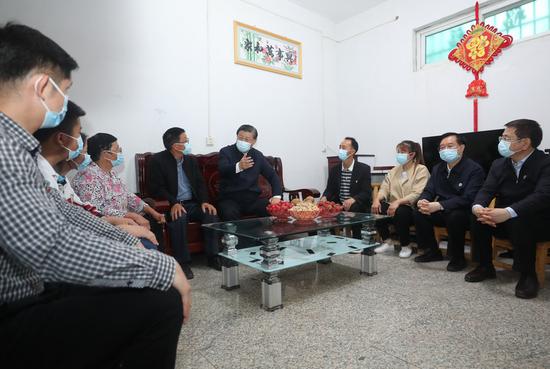 Chinese President Xi Jinping, also general secretary of the Communist Party of China Central Committee and chairman of the Central Military Commission, learns about the resettlement of people relocated because of the South-to-North Water Diversion Project, and measures to develop specialty industries and boost the incomes of resettled residents in Zouzhuang Village, Xichuan County, Nanyang, central China's Henan Province, May 13, 2021. (Xinhua/Wang Ye)
Xi Jinping, general secretary of the Communist Party of China (CPC) Central Committee, said the Party's 100-year history is a history of dedication to people's well-being and aspirations.
Xi made the remarks when visiting the village of Zouzhuang in Xichuan County of central China's Henan Province, on Thursday.
Xi inspected the village and went into the home of villager Zou Xinzeng. Zou expressed his gratitude to the Party for the life improvement over the past few years.
Noting that this year marks the 100th anniversary of the CPC, Xi said the Party was founded to ensure that the people enjoy a happy life, not to seek its own interests.
The people are the state. The CPC's governance is for the purpose of ensuring the people's happiness and meeting their aspirations, Xi said.