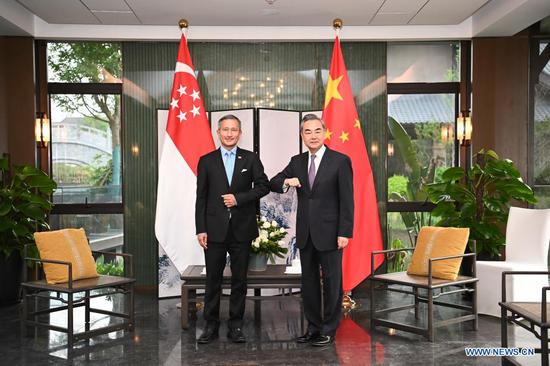 Chinese State Councilor and Foreign Minister Wang Yi (R) holds talks with his Singaporean counterpart Vivian Balakrishnan in Nanping City, southeast China's Fujian Province, March 31, 2021. (Xinhua/Li Xiang)
China and Singapore have discussed options for mutual recognition of health certificates to boost travel between the two nations.
At a meeting between Chinese State Councilor and Foreign Minister Wang Yi and Singaporean Foreign Minister Vivian Balakrishnan, the two parties also discussed wider issues around the pandemic, the situation in Myanmar and economic cooperation.
Balakrishnan had traveled to Nanping, Fujian Province for his first visit outside the Association of Southeast Asian Nations [ASEAN] region since the COVID-19 crisis began.
Last year marked the 30th anniversary of the establishment of diplomatic relations between China and Singapore and cooperation has deepened as the countries have been hailed for their successful containment of the coronavirus.
Fighting the COVID-19 pandemic and vaccines
Wang Yi said that both China and Singapore should work together to jointly address the challenges caused by the pandemic and explore new cooperation in areas such as vaccinations and mutual recognition of health codes. This would include vaccination but also testing documentation, Balakrishnan told local media. China's foreign minister also said that the two sides should work together to oppose "vaccine nationalism" and prevent the emergence of a "vaccine divide."
Working together in construction, technology and science
Wang also said that each side should deepen their cooperation on the Belt and Road Initiative and strengthen the construction of the Land-Sea Corridor that links them. Biomedicine, artificial intelligence and digital finance are priority areas of development for both.
Strengthening ASEAN relations
China signed a free trade agreement with ASEAN at the end of last year and Wang called for its swift ratification.
During a discussion on the situation in Myanmar, where hundreds of protesters have been killed in recent weeks during clashes with the military, Balakrishnan called for dialog to end the violence. Wang said China shared the desire for a stable solution to the crisis, while maintaining the principal of non-interference in the sovereign affairs of other nations.