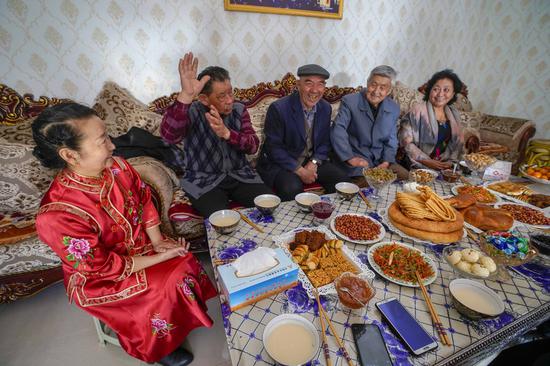 Emin (2nd L), a resident of Uygur ethnic group, chats with his neighbors in Tacheng City, northwest China's Xinjiang Uygur Autonomous Region, April 2, 2020. (Xinhua/Zhao Ge)
Special: Xinjiang
In the last few years, China has focused on two major tasks in Xinjiang -- eradication of terrorism and elimination of poverty, Cui said. "Now, for the last three to four years, there has been no single case of terrorist attack. So people have a much better sense of security and safety now."
Some Western media outlets "bear an important responsibility in adding to the negativity excessively and unfortunately in U.S.-China ties," Sourabh Gupta, a senior fellow at the Washington-based Institute for China-America Studies, told Xinhua.
"It is unfortunate that a lot of very prestigious news organizations in the West on China are no longer news organizations, they have become advocacy organizations," said Gupta.
Gupta expressed hope that the Western media could "take a more responsible approach" and be "more factually accurate."
"I always tell people, you have to judge for yourself through personal experience," Selig said. "This is the only way to get rid of any misconceptions and any biases that might exist."