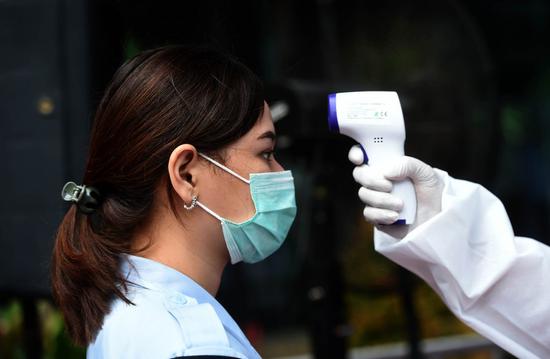 A staff member of Indonesian Directorate General of Immigration has her temperature checked before COVID-19 tests in Jakarta, Indonesia, Aug. 24, 2020. (Xinhua/Zulkarnain)
Special: Battle Against Novel Coronavirus
United Nations Secretary-General Antonio Guterres told world leaders on Wednesday that the COVID-19 pandemic has become a game-changer for international peace and security.
The world has "entered a volatile and unstable new phase" in terms of the impact of COVID-19 on peace and security, the UN chief told a virtual meeting with world leaders.
GAME CHANGER
Speaking at one of a series of international meetings among heads of state to enhance global cooperation in fighting terrorism and violent extremism, as part of the Aqaba Process, the UN secretary-general said the pandemic is more than a global health crisis.
The Aqaba Process is an initiative launched in 2015 in the Jordanian city of the same name by the King of Jordan, Abdullah II, to strengthen international cooperation against violent extremism and terrorism.
"It is a game-changer for international peace and security," said the UN chief, emphasizing that the process can play a key role in "promoting unity and aligning thinking" on how to beat back the pandemic.
The meetings, held via teleconference, covered security challenges emerging in light of the COVID-19 pandemic and ways to address them, in addition to means of unifying and integrating efforts among all stakeholders to counter the threats of terrorism and extremism.
This round of meetings reportedly saw the participation of the presidents of Nigeria, the Philippines, Kenya, and Bulgaria; and the prime ministers of Canada, Bulgaria, and Albania, in addition to UN and Interpol secretaries-general and NATO's deputy secretary general.
WARNING LIGHTS
Guterres told the virtual meeting that the coronavirus has exposed the basic fragility of humankind, laid bare systemic and entrenched inequalities, and thrust into the spotlight geopolitical challenges and security threats.
"The warning lights are flashing," he said, stressing that as the virus is "exacerbating grievances, undermining social cohesion and fueling conflicts," it is also likely to "act as a catalyst in the spread of terrorism and violent extremism."
Moreover, international tensions are being driven by supply chain disruptions, protectionism and growing nationalism - with rising unemployment, food insecurity and climate change.