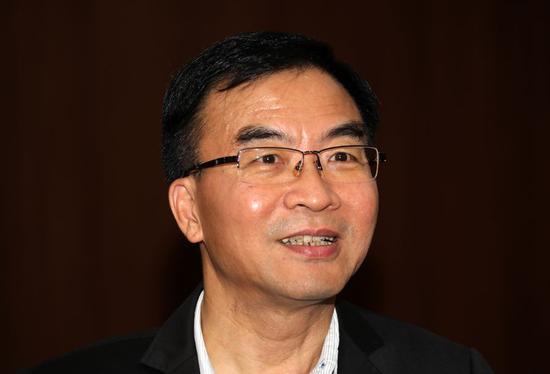 Chan Cheuk-hay, principal of Hong Kong College of Technology, talks with Xinhua in an interview on Oct. 28, 2019. (Xinhua/Wu Xiaochu)
Young people should learn to distinguish right from wrong and take responsibilities for their own behaviors, otherwise they might go astray a nd would be hurt much more in the future, Chan Cheuk-hay, principal of Hong Kong College of Technology, told Xinhua in an interview on Monday.
"As an educator, I deeply feel that we should love and care for students, but never spoil them, because indulgence will only bring them harm," Chan said.
Amid the ongoing social unrest that has gripped China's Hong Kong Special Administrative Region (HKSAR) for more than four months, many youngsters in school are instigated to participate in unlawful assemblies. Chan said he has engaged in direct talks with his students in an effort to prevent the campus from being "politicized."
"I tell my students to protect themselves, be cautious about the consequences of their actions and never take part in dangerous violence," he said.
Chan noted that the opposition and forces behind just exploit the immaturity of students who are going through a period of rebellion. "They go to the campus, spread specious opinions and incite students to do things they have never thought of before," he said.
"For colleges and schools, it is most important not to allow acts of mobilizing students to take to the streets happen on campus," Chan stressed.
In terms of the current turmoil sparked by the now-withdrawn extradition bill, Chan said professionalism and rule of law are needed to put an end to the chaos. "In the spirit of law, we cannot apply a different standard to gauge the actions only because they are politically packaged," he said. "The 'political aura' should be removed and what they do must be dealt with in accordance with law."
"The chaos will eventually end one day, but what worries me most is its influence on the values and tolerance for violence of the younger generation," Chan said.
Chan said some youngsters in Hong Kong are misled by the opposition and certain media, and as a result they have misconceptions or a lack of knowledge about Chinese mainland. "We need to draw lessons and do a better job in getting young people to understand more about our country."
He added that it is necessary to proactively communicate with young people on the subjects where they hold misunderstanding or problems that arise in the country's development, and to carry out targeted exchange programs to answer their questions and solve their puzzles, so as to gradually eliminate their bias.
Chan admitted there is no denying that problems do exist in history and national education in Hong Kong, while he believed problems with general education are most serious. "General education encourages critical thinking and thinking from different aspects, yet some go to extremes and lose their judgement of values," he said.
"We are seeing a lot of youngsters lack a sense of right and wrong and lose their basic moral principles, and that has something to do with general education," he added.
Meanwhile, Chan believed national development brings Hong Kong many opportunities and building Guangdong-Hong Kong-Macao Greater Bay Area is one among them that will benefit young people of Hong Kong. Those young people optimistic about the prospects of the Greater Bay Area will continue to contribute their shares to its development without being affected by the unrest, he said.
"Rather than let the Greater Bay Area be only a concept, we should turn it into specific things that our young people can experience themselves," Chan said. "Ordinary people can share their own stories of participation in the development of the Greater Bay Area with their classmates and neighbourhood, so that more young people will feel that they can as well join and benefit from this national strategy."