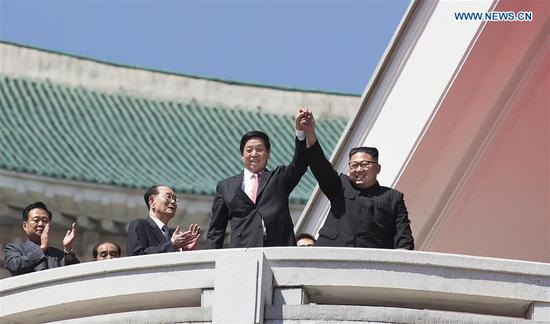 China's top legislator Li Zhanshu (2nd R), together with Kim Jong Un (1st R) and other senior officials of the Democratic People's Republic of Korea, attends the celebrations held at Kim Il Sung Square in central Pyongyang, the DPRK, on Sept. 9, 2018. (Photo/Xinhua)
Li Zhanshu praises ties with Asian neighbor
Li Zhanshu, China's top legislator, wrapped up a three-day visit to the Democratic People's Republic of Korea on Monday after leading a Party and government delegation to the country and attending an anniversary celebration as the special representative of President Xi Jinping.
Li, a member of the Standing Committee of the Political Bureau of the Communist Party of China Central Committee, met with Kim Yong-nam, president of the Presidium of the Supreme People's Assembly of the DPRK on Saturday afternoon.
Li said the traditional friendship between the two countries, forged and cultivated by older generations of leaders, is the shared precious treasure of both sides.
The CPC and the Chinese government adhere to approaching the China-DPRK relationship with a long-term point of view, he said, and are dedicated to maintaining, consolidating and developing bilateral ties.
Li said the National People's Congress, China's top legislature, is willing to strengthen communication with the Supreme People's Assembly of the DPRK, thus contributing to the two countries' legislatures and enhancing the development of bilateral relations.
Both China and the DPRK are socialist countries with similar ideas, Li said, and he hopes the two nations will exchange more of their experiences and learn from each other to promote the socialist cause in both countries.
Kim said the DPRK hopes to learn from China.
The DPRK stands ready to work with China and implement the consensus reached during Li's visit, and further deepen bilateral communication and cooperation in all areas.
After their meeting, Li and Kim attended a welcoming reception for the Chinese delegation, and watched a dance and musical performance for delegations from all countries visiting Pyongyang.
Earlier on Saturday, Li visited the Kumsusan Palace of the Sun and presented a floral tribute to the statues of Kim Il-sung and Kim Jong-il.
On Sunday, Li attended a series of events marking the 70th anniversary of the DPRK's founding, including a parade, with the DPRK's top leader Kim Jong-un.
On Monday morning, Li paid his respects at the China-DPRK Friendship Tower with the Chinese delegation and laid flowers to commemorate Chinese soldiers who died in the Korean War (1950-53).
Since Monday was Teachers' Day in China, Li also visited a university in Pyongyang, saying he hoped the faculty and staff will be messengers of the China-DPRK friendship and contribute to its inheritance.