China and El Salvador established diplomatic relations on Tuesday after El Salvador broke off ties with Taiwan, as the foreign ministers of both countries signed a communique in Beijing.
In the document, the Republic of El Salvador recognizes that there is only one China in the world, and the government of the People's Republic of China is the sole legal government representing the whole of China.
It also confirms El Salvador's recognition of Taiwan being an inalienable part of the Chinese territory.
At a press conference held after the document signing ceremony, China's State Councilor and Foreign Minister Wang Yi spoke highly of the historic decision reached by the two countries.
Wang emphasizes upholding the one-China principle is a widely-recognized norm in international relations. It is also the fundamental basis for China to establish and to develop ties with any other country, Wang said.
The political decision made by El Salvador to abide by the one-China policy and establish diplomatic ties with China without any prerequisites has aligned El Salvador with most countries in the world, proving once again that sticking to the one-China principle conforms to the international convention and trend, Wang added.
Wang said that China and El Salvador will start cooperation in a wide range of areas. He promised that people in El Salvador will gain real benefit from the cooperation.
History will tell that establishing ties with China is in line with the essential and long-term interest of El Salvador and its people, Wang stressed.
The Chinese state councilor also said that the establishment of ties with El Salvador means that China now has a new friend in the Latin American and Caribbean region. It also means China has a new partner in advancing the Belt and Road initiative and creating a Community of Shared Future for Mankind, he said.
For his part, El Salvadorian Foreign Minister Carlos Castaneda responded by saying establishing diplomatic relations with China is a historical event for his country, and a strategic decision made based on the essential interest of people from both countries.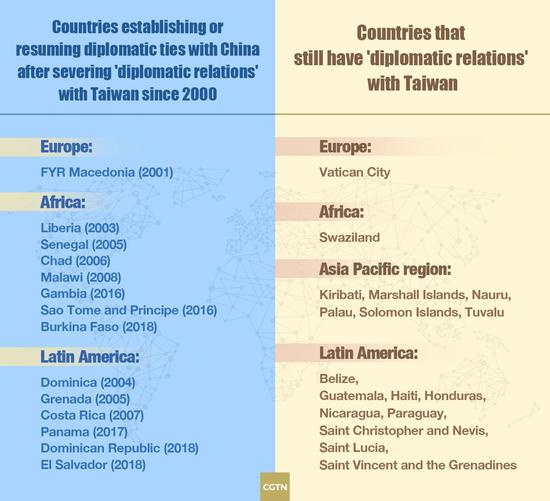 He said El Salvador will stop any official relations or contact with Taiwan, work together with China to boost political trust and reinforce exchanges on different levels between the two sides, in order to bring tangible benefit to people of both countries.
El Salvador isn't the only country that cut "diplomatic ties" with Taiwan and established or reestablished ambassadorial relations with China this year.
Earlier, Burkina Faso and the Dominican Republic also took similar moves.