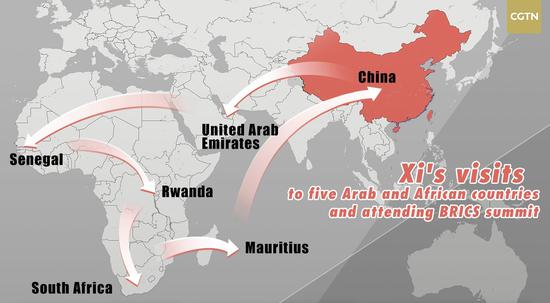 Chinese President Xi Jinping's itinerary in Arab and African countries in July 2018 /CGTN Graphic
Special: Xi Visits Five Arab and African Countries, Attends BRICS Summit
A signed article by Chinese President Xi Jinping was published in South Africa on Sunday, titled "For a new era of China-South Africa friendship," ahead of his third state visit to the country.
Xi will also attend the 10th BRICS summit in Johannesburg.
This year marks the 20th anniversary of diplomatic ties between China and South Africa. Xi said the two countries have supported and learned from each other in their respective exploration of a development path suited to national conditions. Relations between the two countries have developed from a strategic partnership to a comprehensive strategic partnership in the past 20 years.
"China looks forward to working with South Africa to build on the momentum of the 20th anniversary of diplomatic ties and strive for faster and greater progress in our comprehensive strategic partnership," Xi said.
Xi said China's bilateral ties with South Africa "have served as a model for China-Africa relations, for South-South cooperation and for unity and cooperation among emerging market countries, and offered valuable experience for building an even stronger community with a shared future between China and Africa and a new type of international relations featuring mutual respect, fairness and justice, and win-win cooperation."
China has been South Africa's largest trading partner for nine years in a row and South Africa is China's largest trading partner in Africa. China's direct investment in South Africa has grown by more than 80 times and exceeded 10.2 billion U.S. dollars in cumulative terms, creating tens of thousands of jobs for local communities.
Xi said he looks forward to receiving President Ramaphosa in Beijing in September and co-chairing with him the Forum on China-Africa Cooperation (FOCAC) Beijing Summit.
Xi urged the two sides to strive for new outcomes in practical cooperation.
"We need to promote complementarity between our development strategies and make full use of bilateral mechanisms, FOCAC, the Belt and Road Initiative, BRICS cooperation, and other platforms to deepen cooperation in key areas such as industries, production capacity, resources and energy, infrastructure, finance, tourism, and digital economy and deliver more benefits to our peoples," Xi said.
Xi called on both sides to step up coordination and cooperation within multilateral frameworks including the UN, the G20 and BRICS and promote the reform of the global governance system in a joint effort to advance the fundamental interests of Africa and other developing countries and to build a new type of international relations and a community with a shared future for mankind.