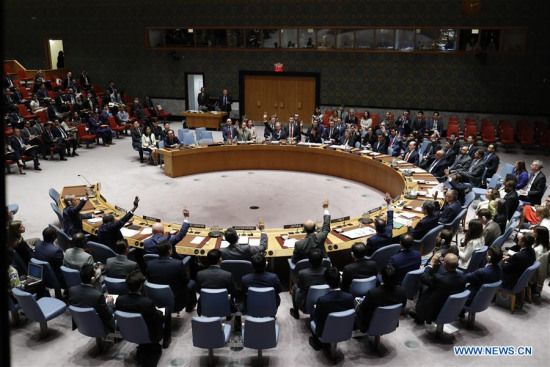 Photo taken on Sept. 11, 2017 shows the United Nations Security Council voting on a resolution on the Democratic People's Republic of Korea (DPRK) at the UN headquarters in New York. UN Security Council on Monday imposed new sanctions on the DPRK over its latest nuclear test. (Xinhua/Li Muzi)
Pyongyang will take measures to retaliate against new UN Security Council sanctions to plunge the United States into the "most difficult situation" in its history, the Democratic People's Republic of Korea (DPRK) ambassador to Russia, Kim Hyun Joong, said Tuesday.
"Since the United States has thrown a comprehensive challenge to our country in all areas, including political, economic and military, we are ready to respond resolutely to this, and this is the firm and unshakable will of our army and our people," Interfax news agency quoted him as saying at a press conference.
On Monday, the Security Council unanimously voted for a resolution toughening sanctions against the DPRK, cutting its oil supply by almost 30 percent, banning all its textile exports worth 800 million U.S. dollars and remittances of DPRK laborers from abroad.
The ambassador said that Pyongyang rejected and condemned the "illegal" resolutions of the UN Security Council, which he says has been turned into a "tool" by Washington with the aim to "isolate and strangle" the DPRK.
He said the DPRK "was ready to solve this problem with countermeasures," without offering any specifics.
Meanwhile, the ambassador said that the DPRK would not stop its nuclear program in spite of the sanctions.
"We have developed and are improving our nuclear weapons as a means that can further deter a hostile policy by the U.S. and protect peace on the Korean Peninsula from the danger of a nuclear war," he said.
On Tuesday, the Chinese Foreign Ministry said that China supports the latest resolution by the UN Security Council, noting that it reflects its stance in safeguarding peace and stability, advancing denuclearization on the Korean Peninsula and upholding international non-proliferation.
"The Chinese side hopes that this resolution will be implemented comprehensively and completely," Chinese Foreign Ministry spokesperson Geng Shuang said.