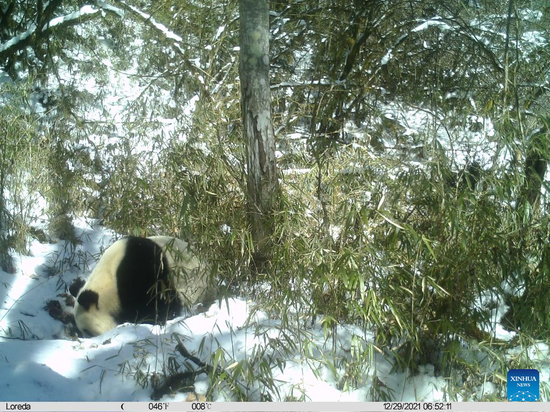 This photo taken on Dec. 29, 2021 with an infrared camera shows a wild giant panda drinking water at the Ya'an area of the Giant Panda National Park in southwest China's Sichuan Province. (Xinhua)
While conducting a field patrol, staff with China's Giant Panda National Park found two wild giant pandas in search of mates.
On March 3, Ma Wenhu, a staff member with the park's Tangjiahe area in southwest China's Sichuan Province, found a giant panda lying on a tree branch in the sun.
"Because the light was particularly good that day, I scanned the slope opposite me with a monocular telescope. As a result, I accidentally came across the animal," Ma recalled.
Ma added that another wild giant panda climbed up the tree and gradually approached the one in the tree. Ma observed that the giant panda who approached the tree constantly smeared perianal gland secretion on the branches and attracted the attention of the other by shaking the tree trunk.
Park experts said the behavior of giant pandas smearing odor with their perianal glands, coupled with the fact that the first panda to climb the tree was a female, indicates the arrival of giant panda estrus in spring.
The fourth national survey of giant pandas in 2015 found that there were 1,864 wild giant pandas in China.
Owing to the relentless protection efforts by Chinese zoologists, the International Union for Conservation of Nature downgraded the giant panda from endangered to vulnerable in 2016.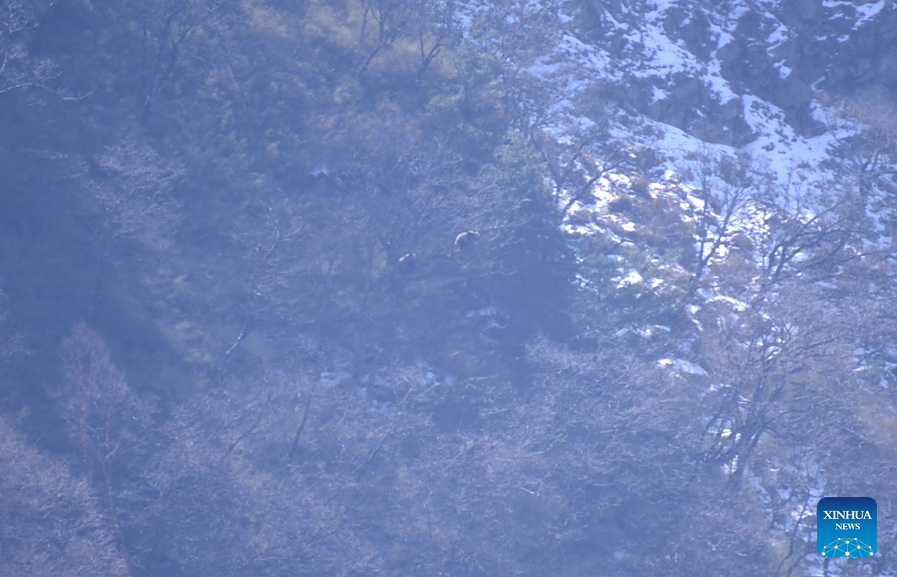 This photo taken on March 3, 2023 shows two wild giant pandas in search of mates in the Tangjiahe area of the Giant Panda National Park in Qingchuan County of Guangyuan City, southwest China's Sichuan Province. (Photo by Ma Wenhu/Xinhua)