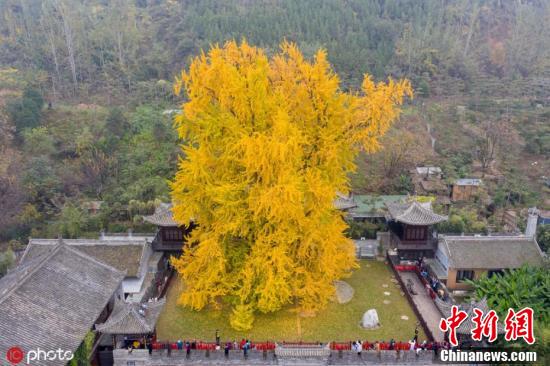 The 1,400-year-old ginkgo tree stands at the center of the courtyard of the ancient temple in Xi'an, Northwest China's Shaanxi Province. (Photo/IC)
Photos of a 1,400-year-old ginkgo tree went viral on overseas social media Monday after netizens expressed admiration for its golden color and huge size.
The photos show the golden tree located in an ancient Chinese temple, while golden leaves cover the entire courtyard. More than 74,000 netizens liked these photos on Twitter.
The ancient temple in Xi'an, capital of Northwest China's Shaanxi Province, was built during the Tang Dynasty (618-907). It is said that the ginkgo tree was planted by Li Shimin, an early Tang Dynasty emperor who was also regarded as one of the greatest emperors in Chinese history.
All the tree's leaves began to turn yellow after entering the late autumn and fell to the ground, covering the entire courtyard. A statue of Buddha was put under the tree, attracting many shutterbugs to come to the temple and take pictures of the tree.
The tree has been included in the national protection list of ancient and famous trees.
To protect the tree and temple environment, authorities decided to establish an online booking system to limit the daily flow of people.
According to a report in The Paper, since the appointment system was launched on October 28, the temple has been packed almost every day.