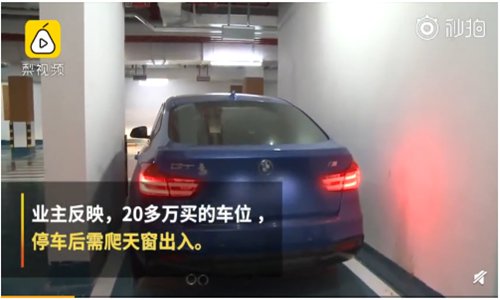 A parking slot is nestled near an elevator between two walls. (Photo/Screenshot of Pear Video)
A BMW driver who paid more than 200,000 yuan ($28,987) for a premier parking spot in a strange neighborhood discovered it was so narrow she would have to climb in and out of the sunroof to use it.
The BMW GT driver who bought the "standard" parking slot online in August found the space nestled near an elevator — between two walls — according to Pear Video.
"You need to climb out of the sunroof after parking," she said.
Only after moving into the neighborhood this year in the city of Nanning, South China's Guangxi Zhuang Autonomous Region, did the driver discover the issue. She immediately sought a refund, but unsuccessfully.
The developers replied they could not help as the deal was done last year and the tax return was already complete.
They advised the driver to resell the parking space while allowing her to temporarily park in a vacant space.
"Resell? Who's willing to buy this? And how to solve the problem for the next buyer?" commented one Net user on China's Twitter-like Weibo.
"Be kind, developer," commented another.
The driver said she would settle it by legal means and probably sue the developer.