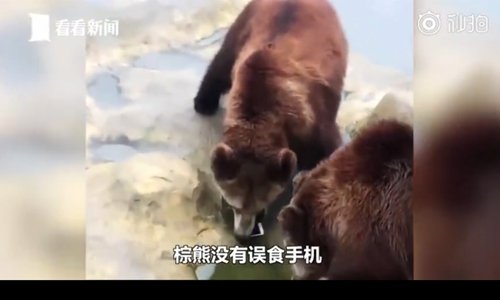 A brown bear smells the iPhone that is tossed by a visitor in the bear enclosure in Changzhou, Jiangsu Province. (Screenshot photo/Kankan News)
A visitor to the Yancheng zoo in Changzhou, Jiangsu Province, made an expensive mistake when she tossed an apple into the bear enclosure. She apparently mixed up the edible kind of apple with her Apple iPhone.
An online video shows the visitor passing by the bear pen on a slow moving elevated rail car and throwing her phone on to the rocks below. A curious brown bear runs over to investigate and then takes off with the phone in its mouth.
There's been no explanation from the owner of the phone, but a zoo employee surnamed Lin suggested the woman might have got excited as her car passed by the enclosure and accidently threw the Apple instead of an apple.
"The visitor might have held the iphone and apple in one hand and threw the phone by mistake," said Lin, Kankan News reported on Sunday.
Zookeepers retrieved the broken iPhone and the bear is fine, said Lin.