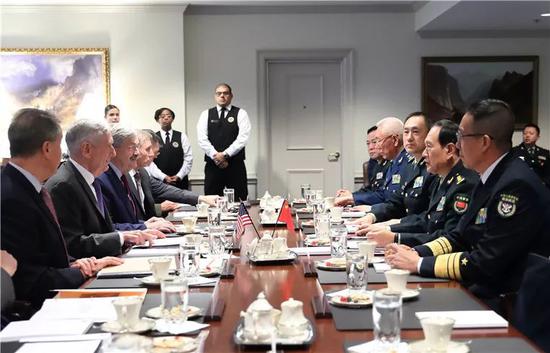 Chinese Minister of Defense Wei Fenghe and US Secretary of Defense Jim Mattis hold talks in Pentagon for the second round of the China-US Diplomatic and Security Dialogue in Washington, DC, November 9, 2018. /Photo via Chinese Defense Ministry
Chinese Defense Minister Wei Fenghe and U.S. Defense Secretary Jim Mattis met in Washington for a postponed security dialogue on Friday.
The two sides discussed a series of issues including military ties, the South China Sea, Taiwan as well as the Korean Peninsula.
Beijing said the U.S. side postponed the second round of the China-U.S. Diplomatic and Security Dialogue earlier last month.
Wei said a series of consensuses reached between President Xi Jinping and President Donald Trump is the strategic guide for bilateral ties. The two sides should handle military ties properly, strengthen strategic communication and increase mutual trust, and work together to avoid conflicts.
Mattis agreed with Wei that the two sides should work on building stable military ties and a stable relationship is always a goal of the U.S. side. He said the U.S. has no intention of containing China, and that he hopes the two militaries could make full use of the existing dialogue mechanism to communicate and strengthen crisis management and avoid misunderstanding and misjudgment.