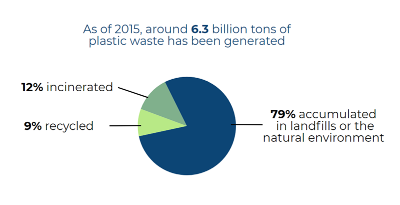 Ten years after the introduction of a strict policy to limit the use of plastics, local authorities are still looking for ways to dispose of the material safely.
A pair of disposable chopsticks, a plastic candy wrapper, a train ticket, orange peel, a ripped plastic bag that held the orange, a sticker tag, an apple pit, tissues...
The list above details the garbage generated by Wang He on April 25, when she took part in a week-long activity called the Zero Plastic Challenge, launched by Mr. Elephant, a public account on WeChat that focuses on environmental issues.
The activity, designed to promote a reduction in the consumption of single-use plastic products, required participants to post a list of the garbage they produced every day as a means of raising their awareness of plastic, or "white", pollution.
"I never buy plastic wrappers or garbage bags at the market. When my family members go shopping, we take plastic bags from home to hold vegetables such as green beans which can't be weighed if not wrapped," said Wang, a 43-year-old painter from Beijing.
Wang became aware of the hazards of plastic products when she was in college; her cat enjoyed biting plastic bags, but often vomited after doing so. That was when Wang realized that "plastic must be a bad thing".
She is one of a growing number of Chinese who are rejecting single-use plastic products after becoming aware of the environmental harm they cause.
However, even if Wang could reduce her use of plastic bags by five a day - about two kilograms of plastic per year - it would still only equal a tiny portion of the 75 million metric tons of plastic that was consumed in China in 2016.
Marketplace ban
Ten years ago, to fight worsening pollution and energy waste caused by the rampant use of plastic bags, the State Council, China's Cabinet, banned marketplaces, including supermarkets, food markets and shopping centers, from providing customers with free bags, and outlawed the use of bags less than 0.025 millimeters thick.
The ban, which took effect on June 1, 2008, has curbed the use of plastic bags in marketplaces.
In the first seven years after the ban was adopted nationwide the use of plastic bags at supermarkets and shopping centers fell by more than 60 percent, according to data from the Environmental Protection and Resource Conservation Department of the National Development and Reform Commission. The reduction in use equaled 1.4 million tons, equivalent to 8.4 million tons of oil, the major constituent of all forms of plastic.
The introduction of a "paid-use" policy, where customers pay for bags, signaled that they come with a price and rewarded people who do not use them, according to Mao Da, founder of the Zero Waste Alliance, an environmental NGO.
According to a 2008 survey of consumers, following the introduction of the ban, 70 to 80 percent of consumers brought their own bags when shopping, and if they did use plastic bags, the number was reduced considerably.
Despite the positive effect of the ban, authorities were criticized for not carrying the policy through after its initial success.
"The ban on plastic bags has resulted in a reduction in their use in the past 10 years. However, the policy lacks clear and measurable targets," Mao said.
He cited two reasons behind the waning effect of the ban: a lack of continuous efforts to raise people's awareness of environmental protection; and the declining psychological effect of the paid-use policy on consumers because of the relative cheapness of plastic bags.
To better implement the ban, Mao called for stricter law enforcement and increased attention by the media and the public.
Last year, Yao Jia, founder of an environmental NGO called Bichumei Studio, led a survey to investigate compliance with the rules governing the use of plastic bags at 211 food markets in 22 cities nationwide.
The findings showed that 42.6 percent of the markets used plastic bags that did not comply with the required standards of thickness and recyclability.
Yao said most stall owners in food markets welcome the paid-use policy because they save money by not giving bags to customers free of charge, but they also fear losing custom to competitors who run open-air stalls and do not charge for bags.
As a result, many retailers hide bags that comply with the standards for fear of scaring away price-sensitive shoppers, but they dare not use those that do not meet standards for fear of being detected by the market supervisors, she said.
To solve the problem, Yao suggested that machines should be installed at markets to dispense bags that meet the standards.
She said one of the major reasons for the plastic bag "epidemic" is low awareness of the pollution they cause, and the fact that consumers do not know which alternatives are safe to use.
To clarify the situation, her studio produced posters that outlined the alternatives and posted them at food markets, where they were welcomed by authorities supervising the implementation of the ban.