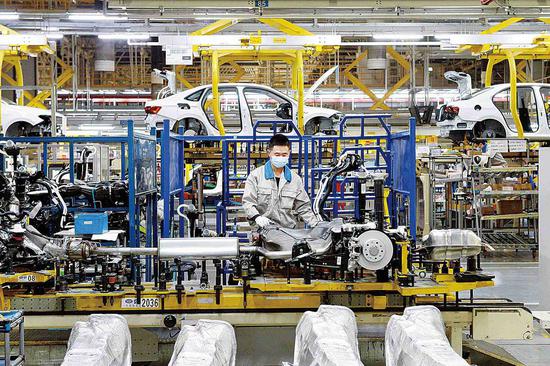 A Volkswagen employee works on an assembly line in Chengdu, Sichuan province, in December. (WANG QIN/FOR CHINA DAILY)
Premier Li Qiang called on Monday for stronger dialogue and coordination between Beijing and Berlin to take the bilateral all-around strategic partnership to a higher level and build the foundation for economic and trade cooperation.
Li's remarks came as he met in Beijing with a delegation of Germany's Social Democratic Party, or SPD, led by its co-leader Lars Klingbeil. German Chancellor Olaf Scholz is also a member of the SPD.
Li, who is a member of the Standing Committee of the Political Bureau of the Communist Party of China Central Committee, underlined party-to-party exchanges as a key part of ties between China and Germany.
Such exchanges are of far-reaching significance for both sides to enhance mutual learning and jointly promote prosperity and development, he said.
Li expressed the CPC's readiness to bolster exchanges and cooperation with the SPD and added he hoped that the German party can give play to its key influences and promote steady and healthy relations between the two nations as well as between China and the European Union.
Klingbeil said Berlin is now preparing for the seventh round of China-Germany intergovernmental consultation, and his party attaches importance to strategic dialogue and communication with the CPC.
He said the SPD is willing to strive for the sustained growth of ties between the two nations and between the EU and China.
China and Germany agreed to lay solid ground for the seventh round of China-Germany intergovernmental consultation and formulate a comprehensive plan for practical cooperation in various fields during a foreign ministers' meeting in Berlin in May.
China has been Germany's largest trading partner since 2016. However, trade between the two sides decreased by 3.1 percent year-on-year to $227.63 billion in 2022, and trade value dropped by 7.6 percent in the first quarter of 2023 from the previous year, according to the Chinese foreign ministry.