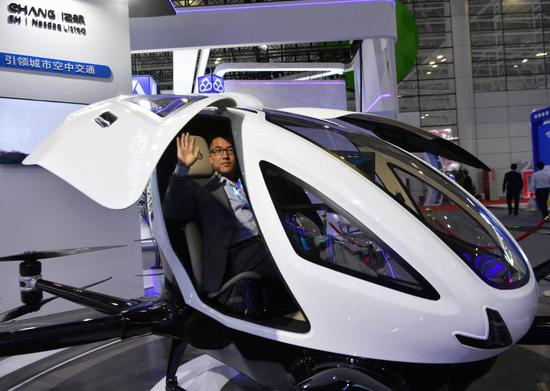 A manned autopilot aircraft is exhibited at the digital achievements exhibition during the fourth Digital China Summit in Fuzhou, southeast China's Fujian Province, April 25, 2021. (Xinhua/Wei Peiquan)
In addition to using cash and digital payment platforms such as Alipay and WeChat Pay, participants in the fourth Digital China Summit have another payment option: the digital renminbi (RMB), if they want to buy bottled water or snacks at the meeting venue.
After downloading a mobile app and depositing RMB, the money automatically changes into its digital form. The payment process is as simple as scanning a QR code on the app, similar to that of digital wallets, and transactions take place in real time. China has launched pilots of the digital currency in a number of cities.
Opening on Sunday in Fuzhou, capital of east China's Fujian Province, the two-day summit showcases the latest developments and applications of digital technologies including blockchain, 5G, AI and big data under the theme of "Stimulating new dynamics of data factors and embarking on a new journey for digital China."
It aims to increase industry exchanges and build cooperation platforms. Tech giants such as Huawei, Alibaba and Tencent have brought here their cutting-edge products, and participants are gathering here to pool wisdom on the improvement of e-governance and the construction of a smarter society.
China's 14th Five-Year Plan (2021-2025) highlights the development of the digital economy by promoting its deep integration with the real economy and building digital industrial clusters with international competitiveness, which will spur high-quality growth.
In a keynote speech at the opening ceremony of the summit, Huang Kunming, a member of the Political Bureau of the Communist Party of China (CPC) Central Committee and head of the Publicity Department of the CPC Central Committee, stressed the importance of pursuing self-reliant, innovation-driven and high-quality development in advancing the construction of a digital China.