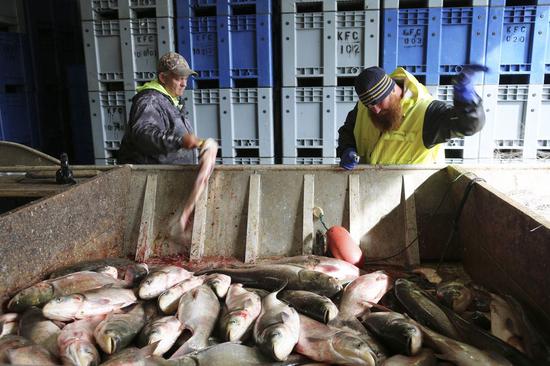 Local fishermen deliver newly caught Asian carp to Two Rivers Fisheries in Wickliffe, Kentucky, the United States, April 12, 2019. (Xinhua/Xu Xingtang)
Angie Yu is a little bit excited recently, as the first batch of 40 tons of roughly processed Asian carp of her company is scheduled to head for China in late April.
The Chinese government has exempted the export of the 40-percent import tariff. "This will be of vital importance for us to develop the huge Chinese market," Yu told Xinhua.
After entering China, the 40 tons of Asian carp will be further processed in several cities including Beijing for different regional markets, she gleamed.
Before China, Europe has been the major export market of the entrepreneur of Chinese origin.
Yu launched Two Rivers Fisheries out of scratch in 2012 at Wickliffe, a small town with a population around 800 along the Mississippi River in the western end of Kentucky. While the business coincides with the U.S. government's eagerness to remove some of the Asian carp from the rivers, Yu also gets support from the Ballard County and the state of Kentucky.
After eight years' development, the company has expanded, with the number of employees increasing from several to more than 20. The number of local fishermen supplying fish to the company has soared to more than 60 groups.
The company processed 3,000 tons of Asian carp fished out of the Mississippi River and the Ohio River in 2019, and plans to process 4,000 tons in 2020.
In 2019, she introduced several Chinese businesses to Wickliffe, Ballad County. Together they are building an International Fisheries Industrial Park with business ranging from first processing to the making of fish ball, smoked fish, dry fish, fish sauce and to turning fish guts into organic fertilizer, which is a complete industrial chain of Asian carp production.
Due to the COVID-19 outbreak, Yu has suspended operation of her business, but she is full of hope. "If everything goes back to normal in the latter half of this year, I am confident we can achieve the goal of processing 4,000 tons."