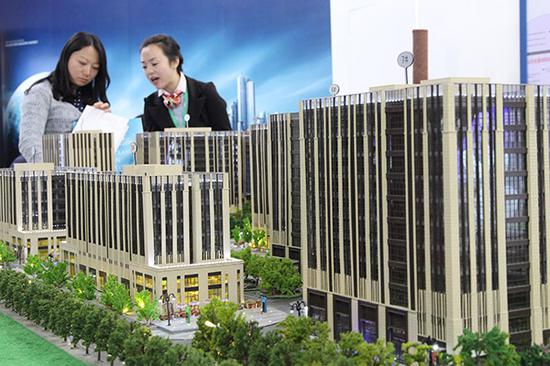 A salesperson presents a housing project at a real property exhibition in Beijing. (Photo provided to China Daily/)
As one of 13 pilot cities in a nationwide housing reform, Beijing has planned to supply a total of 1,000 hectares of rural collective land for constructing residential buildings for rent by 2021.
At present, the Beijing government has signed contracts with villages and companies on construction work expected to start soon on some pieces of collective land, Economic Information Daily reported.
In July last year, the central government chose 13 cities including Beijing, Shanghai and Shenyang to carry out pilot reform of building residential buildings for rent on collective land.
Beijing had arranged 204 hectares of collective construction land by the end of last year, said Guan Aijun, an official from Beijing Municipal Commission for City Planning and Land Resources Management. Another 200 hectares will be added in 2018, he said.
In addition to Beijing, other pilot cities are also stepping up exploration. Chengdu in Southwest China's Sichuan province, for instance, has launched a total of five pilot projects.
Some experts said with the continuous progress of urbanization, housing demand in China's cities — especially megacities — continues to grow. The pilot reform will help solve the housing problem for migrant workers and improve the economic and social environment in suburbs.
At the same time, the reform has also widened channels for collective economic organizations and farmers to increase their income, so farmers can obtain long-term and stable benefits, experts said.