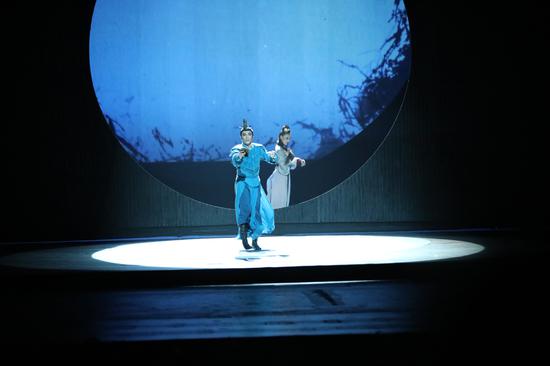 A scene from Chinese dance drama Mulan, which was performed at the John F. Kennedy Center for the Performing Arts in Washington on Friday. Three more performances were scheduled for Saturday and Sunday. (Photo: Zhao Huanxin / China Daily)
Hua Mulan, the legendary daughter of an honored warrior who disguised herself as a man to take her ailing father's place during a conscription to counter an invasion in ancient China, danced at a packed hall at the Kennedy Center on Friday to the standing ovation of the audience.
Mulan, the folklore heroine who has been a household name in China, was presented in a dance drama in her namesake, after inspiring numerous creations, including the Disney's 1998 animated film of the same name, and a live-action adaptation in 2020.
An artistic, choreographed re-telling of the classic tale of the female Chinese warrior, the play Mulan explores the themes of self-identity and empowerment through remarkable and compelling dance numbers and exquisite music.
Unlike the traditional legend of Hua Mulan, which celebrates her warrior spirit, this award-winning modern interpretation created by the Ningbo Performing Arts Group in East China's Zhejiang province also reveals the strength in her pursuit of love and peace.
"It was really good. We've just seen the Disney version; it's a lot different than that. But we really appreciate the story itself," said Rachel Cavanaugh, a resident from Leesburg, Virginia. "I think it focuses on her power as a woman."
In the drama, Mulan, portrayed by Hao Ruoqi, one of China's most popular young dancers, is selfless, smart, and understands her moral responsibility, but her morality goes beyond just her small village to encompass her entire nation, and humanity as well.