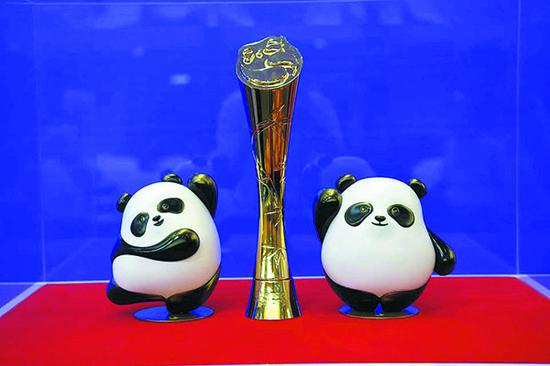 The trophy and mascots of the Golden Panda Awards. (Photo provided to China Daily)
Golden pandas are everywhere in Chengdu, Sichuan province, these days. As the city hosts the first-ever Golden Panda Awards on Tuesday and Wednesday, the mascot of the event is making its presence felt in public places such as subway stations and airports and on the streets.
The city is home to the famed Chengdu Research Base of Giant Panda Breeding.
The Golden Panda Awards, jointly hosted by the China Federation of Literary and Art Circles and the Sichuan provincial government, is an international event to promote humanistic exchanges and the building of a global community with a shared future through film and television productions, in which the giant panda serves as a symbol of cultural significance.
To be held in Sichuan once every two years, the event will select outstanding film and television productions from around the world that promote the common values of all mankind and meet the common aesthetic pursuit of mankind. The jury members will be professionals of global eminence.
Chinese director Zhang Yimou, who has won the Berlin Golden Bear prize and the Venice Golden Lion prize, is the president of the jury for this year's Golden Panda Awards. The chairman of the documentary category is two-time Oscar winning director, writer and producer Malcolm Clarke.
The theme of this year's Golden Panda Awards is "Brilliant Civilization, Resplendent Vision". A total of 25 awards will be presented in four categories: film, TV drama, documentary and animation.
On Tuesday, jurors started the final selection process from 90 nominated works that have cleared the preliminary screening, and the final awards will be announced on Wednesday evening.
Of the 90 nominations, 29 are films, 26 are TV dramas, 20 are documentaries and 15 are animations, organizers said. A total of 7,024 works from 104 countries and regions were submitted, with 70 percent being works from outside China.
According to Ren Zhonglun, a jury member and vice-chairman of the China Film Association, the works shortlisted for final evaluation are of excellent quality from major countries around the world.
The works deal with themes such as traditional culture, nature, geography, ecological and environmental protection, family ethics, suspense, science fiction and fantasy. All the submissions are intended to promote truth, goodness and beauty, he said.
In the running for the Best Film prize are Jojo Rabbit, which has anti-fascism as the background of the story; Persian Lessons, submitted by Information China Media, which deals with human beauty; The Last Film Show, submitted by Orange Studio in India, which has strong national characteristics; and The Wandering Earth II, submitted by China Film Co, which conveys the concept of a community with a shared future for mankind, Ren said.