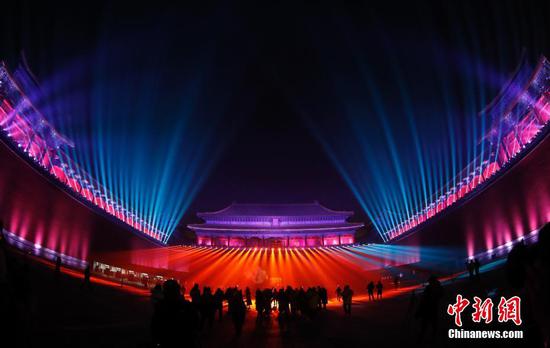 During the Chinese Lantern Festival, the Palace Museum is allowing late-night visits for the first time. (Photo: China News Service/Du Yang)
For the first time in 94 years, the Palace Museum, also known as the Forbidden City, in Beijing, opened at night to mark the traditional Lantern Festival celebrations on Tuesday.
The UNESCO World Heritage Site has been illuminated with over 300 traditional Chinese red lanterns for the two-day carnival.
Colorful light projections of renowned ancient paintings and New Year-themed exhibits have been organized for thousands of enthusiastic visitors.
The revelries signify the grandeur and tradition of spending the festival in the former royal palace.
People from all walks of life have been enjoyed the rare chance to access the mysterious Forbidden City at night.
Free tickets were made available on the museum's official website a few days back, however, the ticketing system temporarily crashed within an hour due to heavy traffic.
From the Meridian Gate in the south to the Gate of Divine Prowess in the north, hundreds of red lanterns and LED lights project propitious patterns, Chinese characters, as well as ancient paintings on roofs and walls of the heritage structures.
Shan Jixiang, curator of the Palace Museum, said that the museum had been preparing for this event for the last three years to ensure proper safety of the national cultural treasure.
During the night tour, visitors can walk through the Meridian Gate, enjoy exhibitions and stunning light show on the Gate of Supreme Harmony, and walk along the eastern wall to the Gate of Divine Prowess.
Established in 1925, the Palace Museum is located in the imperial palace of the consecutive Ming (1368-1644) and Qing (1644-1911) dynasties.
The magnificent architectural complex and the vast holdings of paintings, calligraphy, ceramics, and antiquities of the imperial collections make it one of the most prestigious museums in the world.
In recent years, the Palace Museum has drawn more visitors from around the world, and now, it limits the daily number of visitors to 80,000.
During this year's seven-day Spring Festival from February 5 to 10, online tickets were sold out a week earlier.
The Palace Museum will celebrate its 600th birthday next year when it is expected to host more exhibitions and public events.