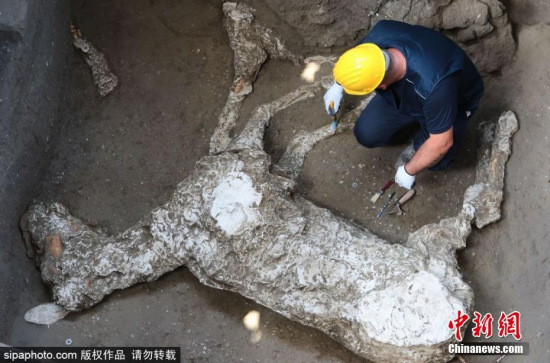 The plaster cast of a horse that died when Mount Vesuvius erupted in A.D. 79. (Photo/SipaPhoto)
Archaeologists have found the remains of a horse for the first time in the ancient city of Pompeii which was buried under ash and lava after Mount Vesuvius erupted in 79 A.D..
According to reports by Live Science, a U.S.-based science media, the horse was found Thursday just outside of Pompeii's city walls. The ancient Roman city is located south of Naples, Italy.
The horse was preserved so well that archaeologists were able to inject liquid plaster into it so as to display its "body" to the modern world.
Compared with many modern horses, the ancient animal was small with a 1.5-meter height from ground to its shoulder blades. However, archaeologists said its size was remarkable for horses during the Roman period when Pompeii was a prosperous town-city with tens of thousands of residents.
The reports added that an iron harness with small bronze studs by the horse's skull was found, suggesting that the horse was probably not raised for farm work but for noble uses such as racing or circus games.
Earlier excavations have unearthed the remains of donkeys and mules at Pompeii, which was added to the UNESCO list of World Heritage sites in 1997.