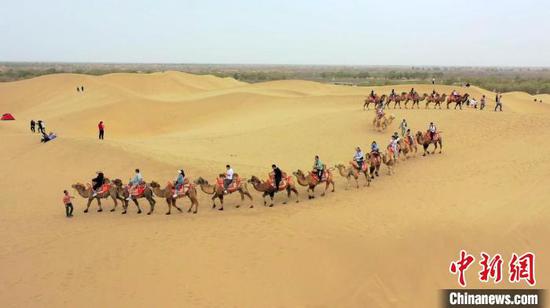 Photo shows the Yuli County of the Bayingolin Mongolian Autonomous Prefecture, Xinjiang. (Photo: China News Service/Wang Zhipeng)
(ECNS) -- As summer approaches, tourist attractions throughout Xinjiang Uyghur Autonomous Region are experiencing a tourism boom.
In Yuli County of the Bayingolin Mongolian Autonomous Prefecture, which is located in the heart of the Taklamakan Desert, the unique desert tours have also become a popular choice.
During the early summer season, Zheng Jing, a tourist from Wuhan, Hubei Province, embarked on a trip with her cousin Xia Fang. The two sisters who grew up in the city have always longed to experience the vastness of the desert. They decided to visit the Lop Nur People Village in Yuli where they indulged in the joy of exploring the desert.
"It's my first time to go to Xinjiang and see the desert, which is truly breathtaking. All my worries seemed to vanish into the sky," Zheng said.
"Riding the desert off-road vehicle was incredibly thrilling. I had mixed feelings of excitement and fear," Xia said.
In recent years, Yuli County has focused on enhancing the infrastructure of tourist attractions. The county has made significant efforts in desert tourism, aiming to improve the service and provide visitors with a unique experience of local culture and the charm of the desert.